With a name like that, you know this dish is not low fat. lol I saw this recipe on
Full Bellies, Happy Kids
. I was a bit hesitant to use crackers and so much butter but I needed a quick recipe and the recipe fit the bill.
I have to say, the chicken turned out moist and flavorfull. I think I would cut the butter quantity by 1/4 less and I'm sure the chicken will still be moist. I also tweeked the recipe a bit to my liking. This is the quantities I used to make my meal. This is a delicious dish that your children will like to eat. It's tasty and simple. Perfect for picky eaters.
4-5 Chicken breast halves (I like to use thin chicken breast cutlets)
8 oz Buttered crackers, crushed (I used the one with a "Hint of Salt" since
I find those crackers too salty)
1/2 tsp Ground black pepper
1 tsp Kosher salt (you can omit this if you use regular buttered crackers)
Preheat oven to 375. Grease a 9x13 baking dish.
Use a shallow dish and pour the beaten eggs into it.
In another shallow dish, mix the crushed crackers, garlic powder, black pepper and salt.
Dredge the chicken breast into the beaten eggs then into the cracker mixture. Place on the baking dish. When all the chicken breast are done, plop (like that word? lol) the butter pieces all over the top of the chicken breasts.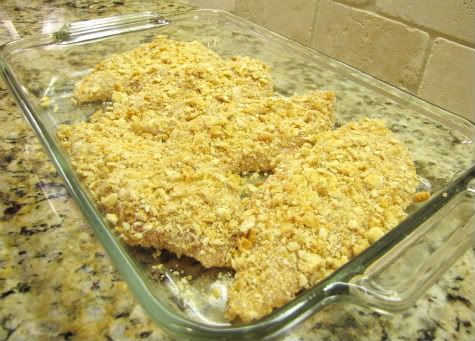 Bake for about 30-35 minutes until the chicken is done.
Now I wasn't sure if it was going to be crispy but it was after a few minutes taken out of the oven. The chicken was moist and had good flavor to it.
Bon Appetit!