I've been a bit busy after the demo crew stopped by. Trying to find the perfect tile for the backsplash. Anyway, they came at 8:20am, started demo at 9:30 and left around 1pm. They were very nice and left my kitchen clean and nothing got broken. So far so good. Now I need to wait for the granite to be cut and also I need to find some tiles for above the range. Here's some pics of what happened yesterday.
Before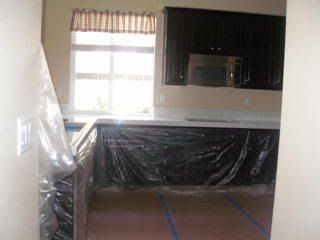 Yes, that is my son and yes, he is not wearing pants. Boys are....special...they like be to naked or halfway there.



During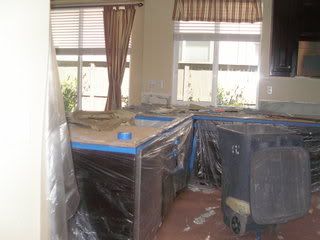 I thought this picture was funny since we only see my son's eyes and hair in the corner. My daughter was wondering why mommy is taking pictures. Mommy likes to document things. Lets hope my craziness doen't run in her genes.
Now I have no kitchen to cook in. Normal people would be thrilled in not having to cook. Read my first post and you will see I am not one of those "normal" people. My friend K has been nice to lend me her kitchen for tomorrow. I will cook some meals there (and leave some too) and freeze them home. I still have an oven and a crockpot to cook or bake. I don't use the microwave to cook.Just to reheat things. This is going to be a bit of problem for me but the end result will be great! Can't wait!
A bientot!