Happy Mother's Day to all the moms that I have met and known. I hope you get some "me" time and some peace and quiet. I got some lovely gifts from hubby and the children.
My daughter and son were excited about their gifts. It's a ceramic tile with painted flowers on them. The flower were made with their fingers. I have kept every one that my daughter has made me. This is my son's second gift that he "made" (with help of his teachers). Hubby got me something that I saw on a mom's board and loved. Good job hubby! It's a family tree shadow boxes. It comes with little maple leaves (I am Canadian) and each box is for our side of the family. One for me and one for hubby. It'll look great in a niche that I have close to the family room. I'm soooo happy about it! Can't wait to track mine and hubby's family tree!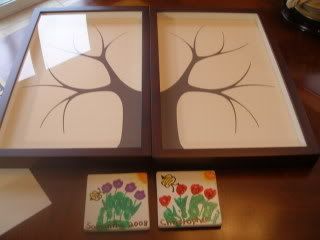 So far it has been a nice Mother's Day. Even with tile guy working on my kitchen now. Yes, he's a day early. Happy Mother's Day!
A bientot!