So the granite guys came today to install my countertops only. Tile guy will come this Monday. I'm a bit happy with it. Why a bit? Well the
slabs that I bought (after tile guy said it was enough for my kitchen) weren't big enough so they exchanged it with other slabs, Now this one has some weird markings on it. Like stained circles. I know it's a stone but I would of preferred choosing my slabs again. Hubby is ok with it but understands that I should of chosen it instead of 2 granite guys. Anyway, here's what it looks like so far.
Sorry for the photo quality. It's pretty dark.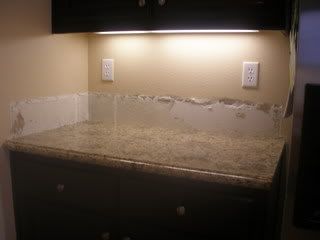 I love my new sink. Nice and deep and wide. Can't wait to use it!
Forgot to take a pic. Will when tile guy will be done.

A bientot!