This morning I had brunch with some friends of mine at California Cafe. We were missing one though. She moved to St-Jose not too long ago. Hi E!
Our group was much larger but downsided to 4..well 3 since E left.
So it was nice us Frenchies being together again.
We took some pics of us and L took a pic of the empty seat on our table. S and I just talked a bit. L also called E as we were there. We had a nice petit dejeuner. I had a Ham and Swiss cheese omelet with a Bellini. I don't drink but I thought a little somethin' somethin' would be ok. Here's what my plate looked like. I should of flipped it around but oh well!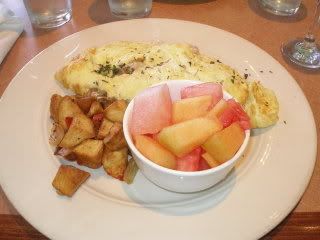 We chatted about our kids of course, about what's going on in our lives, etc. The conversation was nice, funny and sometimes serious. We all lead different lives but we all need friends to listen to us and support us. Ok, so now I'm sounding like a Hallmark card so I'll stop before you guys get sick. Anyway, it was nice and I'm looking forward to another outing with my Frenchies.
A bientot!