My kids were in their rooms, taking a nap or just resting. No naps = extremely cranky kids. Non merci! So I was reading some of my favorite blogs and I heard a noise in the playroom. Someone escaped! I get out from my guest bedroom and look up. My little monkey was up. Upon closer look, I saw his legs. Oh c**p! First thing that popped in my head was my carpet! Second, my camera. I was still fuming but I knew in a few years, I would laugh about it. In many many many years, I will eventually laugh about it. Not today. Monkey boy probably saw smoke coming from my ears and stood there, confused as to what to do or say. My daughter came to see what was going on but she knew she was in trouble too. Here's what I saw.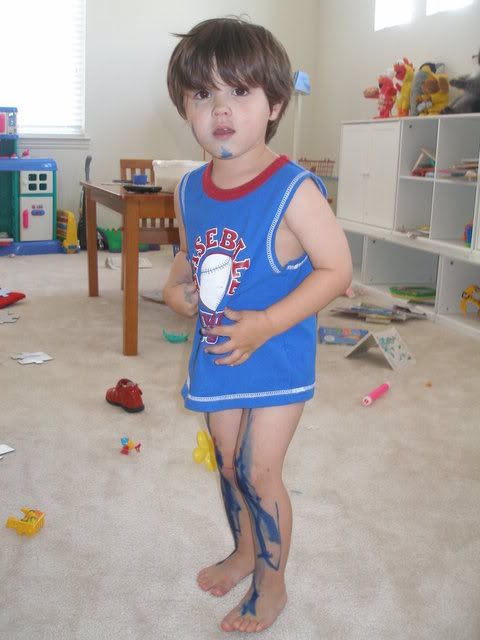 He just went and messed up the playroom and decided to do a Picasso on himself. Now I asked HOW he got the markers? The NON WASHABLE markers? She left them in the playroom. She knows the rules. Do not leave crayons, pens, pencils or markers until monkey boy is 18! I didn't take a pic of the carpet but lets just say, this queen of clean wasn't sure it would come out. It's that bad when I doubt about a stain. Off to clean the carpet while I told monkey boy to stay in the bathroom. Once I was satisfied with the carpet (amazingly, I was able to get 98% of the markers. There's one small line that I will tackle tomorrow), I drew a bath for him. I just washed my tub this morning too. soupir. The clear water turned into this.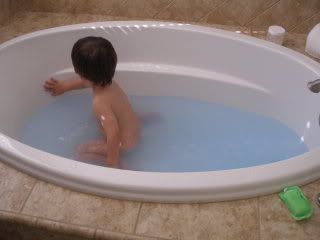 He had fun. Moi? Not so much. What am I going to do with this child of mine???