Last night my friend K and I went to the Melting Pot .I have never been to one but my friend has. Let me tell you, it was fun and tasty. And fun. Did I say that already? Must be the drinks we had. One each in case you were wondering.
So I, of course, had my handy dandy digi camera with me. My friend now says to people "she's a blogger" as a way to apologize for my picture taking. Just say it! You love it K! So here's how it went. We chose the Big Night Out, Fondue Feast. We were stuffed. So it's a 4 course meal. You get cheese fondue with some dippers, a salad, a savory fondue and a dessert chocolate fondue. Are we salivating??? Please get a tissue since saliva and keyboards do not mix. All clean? Ok, lets continue with our fondue journey.
So here's my friend covering her face because she is wanted in 2 states and wishes not to be discovered by the Feds and CIA. Just kidding. Couldn't resist.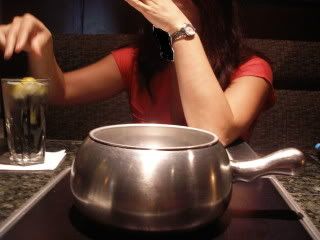 We ordered drinks. My friend had the Pineapple Mojito and I the Ying Yang. Both were yummy.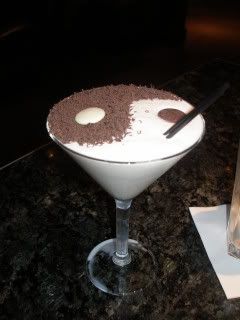 For the first course, we chose the Spinach, Artichoke Cheese Fondue. It was yummy. The dippers were some vegetables, bread, tortilla chips and apples. Hmmm delish!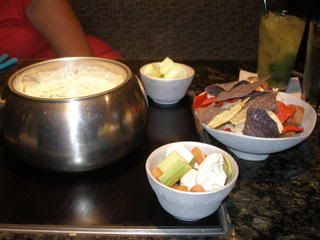 We each had a salad. I had a Cesar salad and she had a California salad if I remember correctly. Sorry, forgot to take a picture but I'm sure you guys know what lettuce, croutons and some veggies look like on a plate.
Now for the third course, we chose Coq au Vin cooking styles. A delicious broth simmered with mushrooms, spices, garlic, herbs and burgundy wine (my mom's favorite red wine). The smell was sooo good! Now comes the piece de resistance! We were offered some marinaded pork tenderloin, filet mignon medallions, butternut squash ravioli, vanilla rum chicken, jerk-seasoned sirloin, zesty peppered shrimp and some fresh vegetables. The filet mignon was
. Now all these came with 6 or 7 dipping sauces but I don't know it was necessary since everything was marinaded to perfection.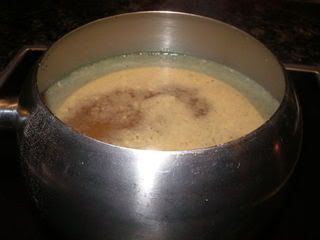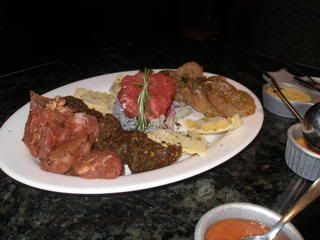 It was nice. Good food and good company (see I love you K. I won't let the Feds get you). Then comes dessert. Hmmm. We went with the Cookies'n'Cream Marshmellow Dream. It came with dippers too since sticking our fingers inside the pot will resulted in burnt fingers. Delicious and sweet burnt fingers. The dippers were strawberries, bananas, bite size rice crispy treats, brownies, marshmallows and a tiny slice of cheesecake. We wouldn't finish it all.


Flambee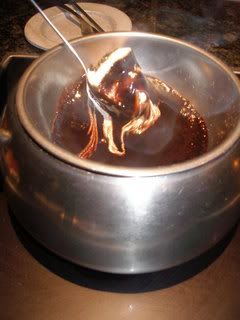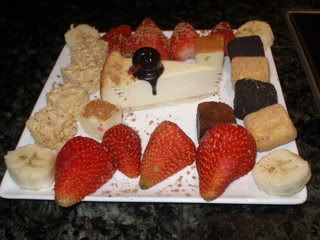 Our empty drinks.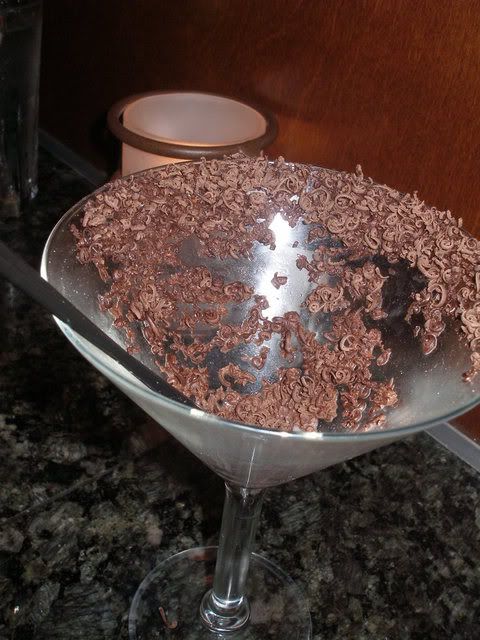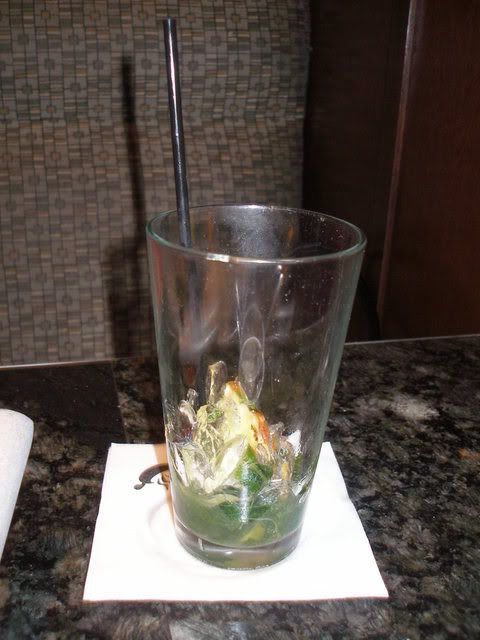 What? The bill you say? How much? Ahhh, lets say it's between McDonald's and Masa. It's not something I would do once a month but once or twice a year. The ambiance was nice. Good place for having a nice quiet dinner. Our server was great. She was very nice and helpful. Great service. The one thing I mentioned to my friend is the one responsible to wash all those cheese crusted pots. Hey, the clean freak in me couldn't not notice how hard it must be. So I give this restaurant 2 thumbs up! A l'annee prochaine Melting pot!