My daughter has never been to a movie theater. I never thought she would be able to sit down and be quiet during a movie. At 5, I thought "she's ready". And she was but still forgot to speak softly when the movie was playing. Alot of other kids forgot too so I think it went ok. I also wanted to make it a Girls Only day out and we never saw Kung Fu Panda. Pretty good. Some things flew by her since she's only 5.
Once there, she was awe struck when entering the building. So much to see everywhere! Even up to the ceiling! We got some popcorn and off we went to get our seats. Oh and I was shocked that the concession stand did not have any kid friendly drinks. Only soda and Freezee (cherry or cola flavors). I got her a cherry Freezee since she doesn't drink soda. She said it was spicy. LOL I'm sure she meant fizzy but spicy is anything with bubbles in it. I should of asked for water but I was still is disbelief in the lack of kids drinks. You think it'll be ok if I brought some juice from home to a movie theatre? With our hands filled with popcorn and drinks, we sat and she just kept looking around, thought the chairs were broken and liked the cup holders. She behaved well during the movie (no talking really loud, getting out of her seat, running and such). At the end, she was very comfortable watching the movie. Kept asking me questions as to why the "tv" is so big and loud, why it gets dark, why we can't get into other movie viewings, etc. I was glad she liked it and soon we'll have to have another date or perhaps have a father/daughter date. Hubby might fall asleep though. Oh well!
Of course I took some photos of her. What kind of mom do you think I am?
Holding our ticket stub.
Watching the start of the movie.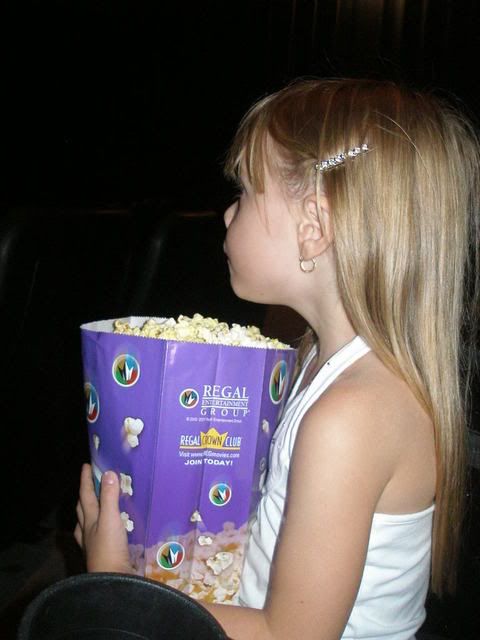 Bad pic but I tried to catch her watching the credits. Didn't want to make a flash during the movie. She was like this for about 20 minutes before the end of the movie.

Going home.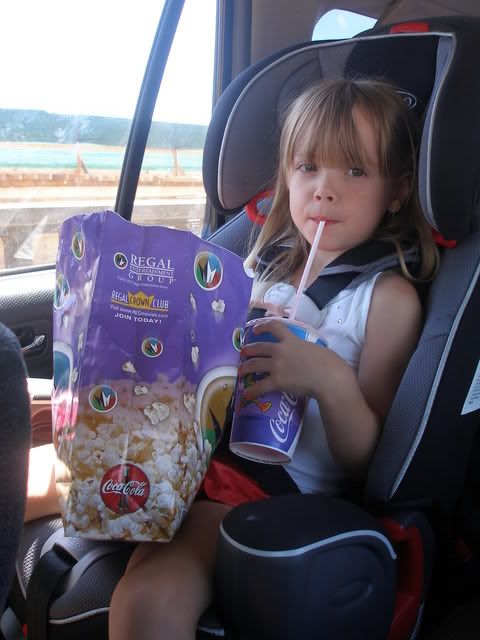 A bientot!