I wanted to add 2 more products for Sunday but I never had the time. Here are my favorite stainless steel cleaning products. I have been using Weiman Stainless Steel wipes with their microfiber cloth for over a year. The Bar Keepers Friend has been in my home for about a year too. I always have these on hand since I have stainless everything. Lets begin.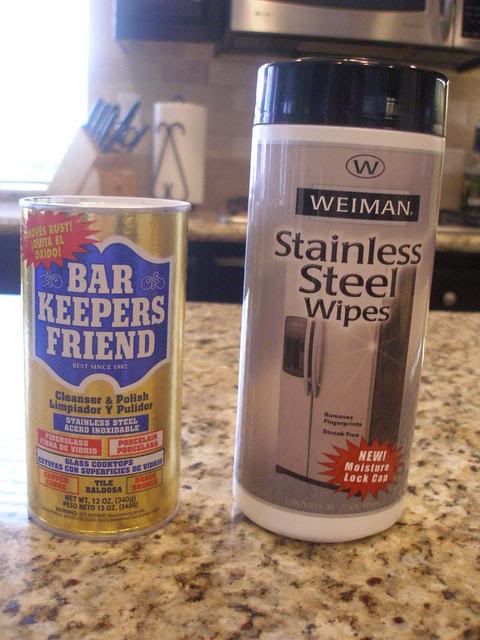 Weiman makes different kind of wipes. Some for granite, leather and stainless steel. I have tried other stainless steel wipes but they won't compare. Although I haven't tried Method. Maybe next time. The Stainless Steel wipes are great for cleaning your fridge, microwave, oven, sink, etc. I use their microfiber cloth to buff the product but any soft cloth will do also. I like that it doesn't leave any streaks IF you buff small areas at a time. Makes my appliances look pretty and shiny!

Bar Keepers Friend is a powder cleaner. It does not scratch unless you are using a scrubbing sponge. Don't! That MIGHT scratch any metal item. If you don't want your shiny pots or appliance to have scratches, use a damp cloth to be on the safe side. Just rub it in, rinse and dry. Great also for cleaning out burn on food on electrical burners stove. You can then use a sponge/scrubber to get the food out.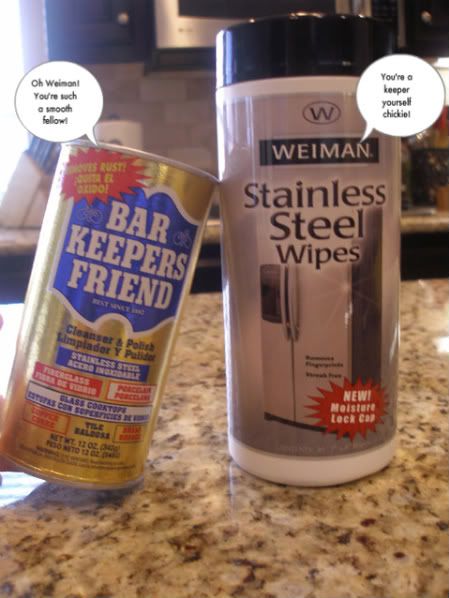 Toss those old wire scrubbing pads and try these two products. Let me know how it turned out for you and if you like or dislike them. Now get to cleaning ladies (and men)!
A bientot!