I know I have been bad in regards to my once a week cleaning/tips. Forgive me. I will make it up once I get a hang in juggling everyday life with blogging.

For those of you with granite countertops, you know that you are not supposed to use certain products on it. It could etch the top or even strip away the sealer on it. Now I have used Windex on my countertops from my fisrt home for almost 3 years and nothing happened. Lucky break? I do not know. This year I happened to see Method the daily granite in my weekly run to Target. Hmmm I guess I could try this one instead of buying that $10 bottle from the tile place. And here's my review on it.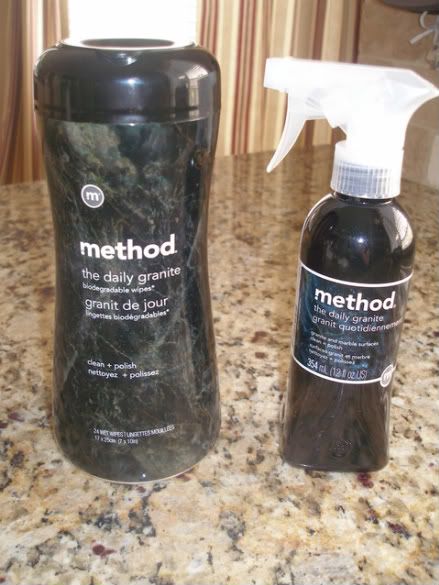 The bottle or container looks nice. The granite line also has a microfiber cloth for just over $4. The smell of the product is very nice too. Not chemically. Both the bottle version and the pre-moistened wipes work great. The finish is nice and shiny. It's also gentle on the hands and it's more earth friendly than those other brands. I've been purchasing this products since I installed my countertops and it's been great. You should try this product before the really expensive ones. You can find Method in Target and certain grocery stores. The price is about $3.50-$5 depending where you buy it.
Here's a tip that I know some tile guys will faint from hearing this. For making your granite really slick and smooth, I use Pledge. Yup! Good old non scented pledge. Buff it after cleaning your countertops and it'll feel as smooth as a baby's bottom! Now some would say that you shouldn't eat then from the countertop. My response? Who eats directly on it anyway? Plate anyone? Or cut meat on it? Cutting board! If you want to dull your knives, by all means cut your meat on top of the granite. Just hope you have a lot of money to spend on new knives.
That's my product review for this week. Next week we will be talking stainless steel since it seems to be "in" now.
A bientot!