In my new home, our laundry room has alot of cabinets but no tall cabinet. I had one at my first home and it held my broom, swiffer and other cleaning tools. What's a girl to do when you have a small laundry room but need tostore your broom, swiffer or any other long handle tool? Use a
Command Strip Hook
!
I LOVE these! I have them in almost every space in my home. They're great since they don't damage the wall/wood or ceramic. I have a satin nickel finish one in my guest bathroom door for towels or robes. One in my laundry room for my broom and swiffer. One on my front door to hold a wreath and two in my foyer closet to hold my canvas bags/purses. I probably have them somewhere else that I can't remember now. They come in different sizes and finish. These are especially great for rentals since you can stick them anywhere and remove them when you leave. You can buy the adhesive backing separately so no need to buy the hook again.
Here's how I use mine in my laundry room.
Now there's a twist with my broom since it won't lay flat against the door. Solution? Just use a pretty ribbon to attach the broom to the hook!
Voila! Now it lays flat against the door. Out of sight! I don't have a problem with my swiffer since it has a bigger loop so it lays flat.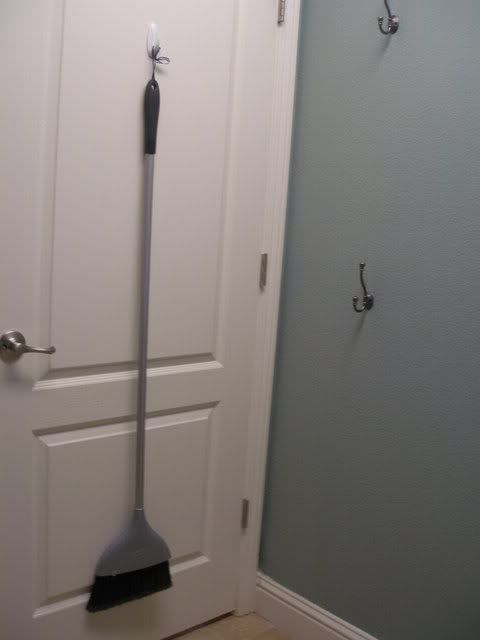 You can buy them in any store and depending which style, size or finish, they may cost you around $2.5-$10. Try one and I'll bet you'll get hooked! Ok, ok. Really lame pun but you know I had to throw that in!
A bientot!