A few years ago, a coworker and friend of mine, brought to work a Greek dish for lunch. I have never seen or heard of this dish so I had to inquire what it was. She said it's a bit like a Greek lasagna. Hmmm I love lasagna and I always like to try new things. She gave me a bite and I was in love! Off to Google Pasticio when I got home. I came across many recipes and this is the one that I use.

A few days later I brought some to work and asked her to rate it. She said it smelled like hers and even tasted like hers! Got the flavor down to a pat! Woohoo! Now I must warn you. This is not a quick meal and it will require a few pans. This is for the serious cook that LOVES cooking. Are you one of us???? What to join?? Yes?!! Great! Get your apron on 'cuz it's gonna get messy!

Les acteurs pour le spectacle. Yes, I forgot to add 2 missing eggs in the photo. I could of re-taken the photo but I just wanted to keep it real. No fancy photography here. Just moi and my little camera.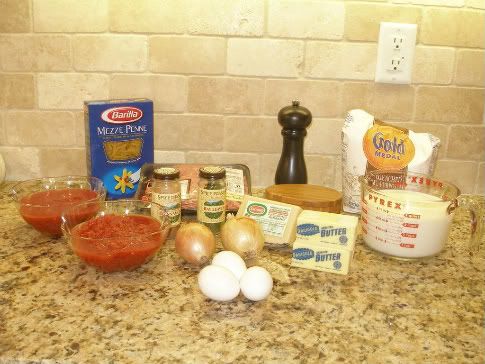 1/2 lbs Unsalted butter (2 sticks for my American friends)
1 lbs Ground round
1 med Onion, chopped (I used 2 small ones)
1 can Tomato sauce (12 oz can or a bit larger)
1 can Whole tomatoes (12oz or larger can. Used diced)
1/2 tsp Cinnamon
1 lbs Half cooked mini penne or tubini
3/4 cup Flour (used unbleached)
3 cups Grated Pecorino Romano
3 1/2 cups Whole Milk
5 Eggs, beaten
1 Bay leaf
Salt & Pepper (about 2 pinches of each)

In a dutch oven pot or large pot, melt 4oz of butter (1 stick). Add chopped onion and cook until translucent. .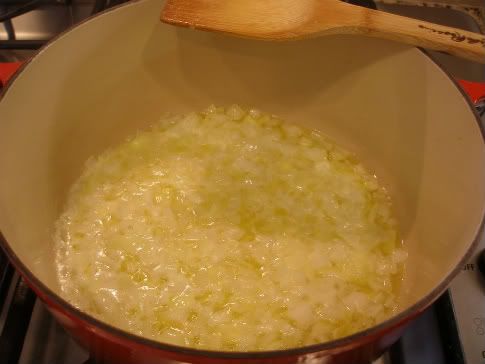 Add the ground meat and season a tiny bit with salt & pepper. You will season the sauce later on. Once meat is cooked, add tomatoes, tomato sauce, bay leaf and cinnamon and cook over medium flame for about 35 minutes. Lower the heat if it starts boiling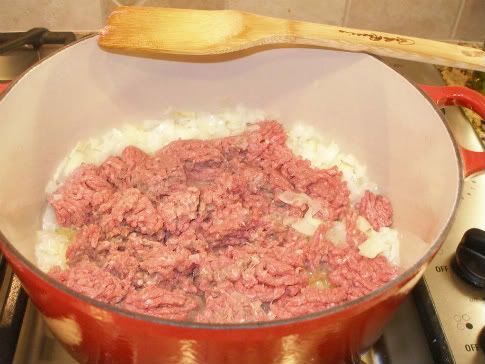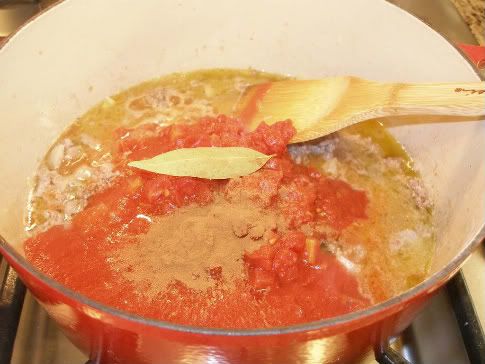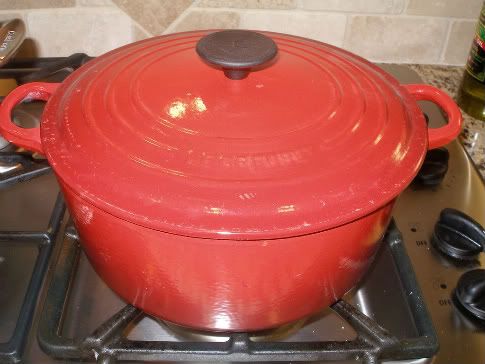 Place 1/2 of the grated cheese in a 11" x 14" pan. Layer with 1/2 of the pasta, then half the meat sauce. Repeat until you no longer have ingredients left. Now check the meat sauce and taste. Does it need more salt? Pepper? This is the time to season it.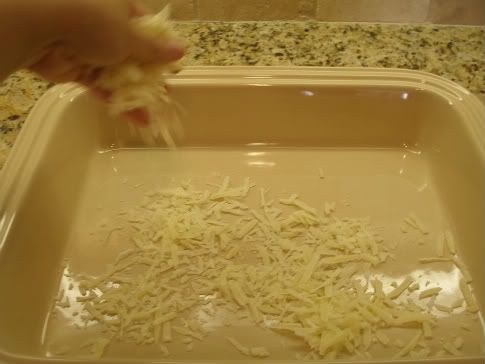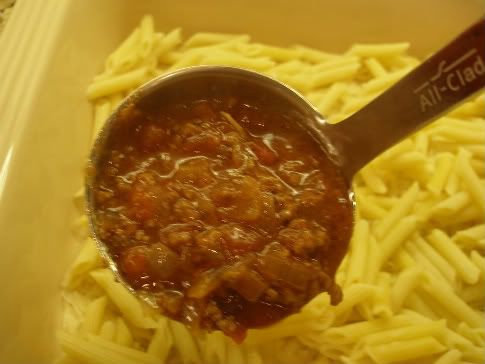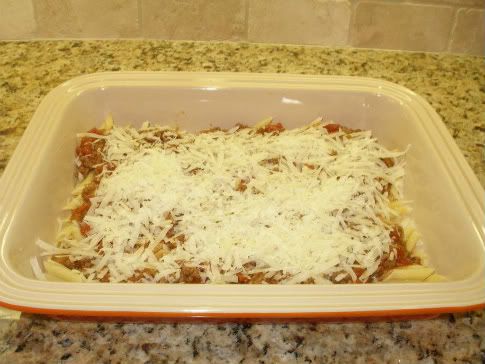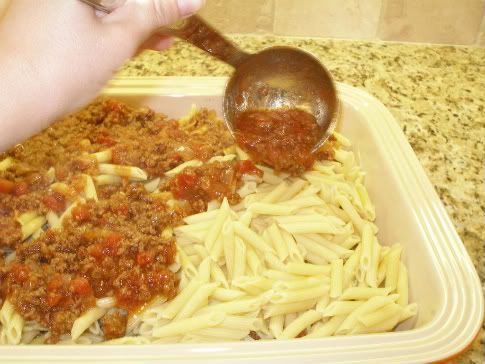 Mix the final layer, the Pasticio Crema. It's like a bechamel sauce with eggs. Start by melting 4 oz of butter (1 stick) in a medium saucepan, on med-low heat. Let it cool slightly.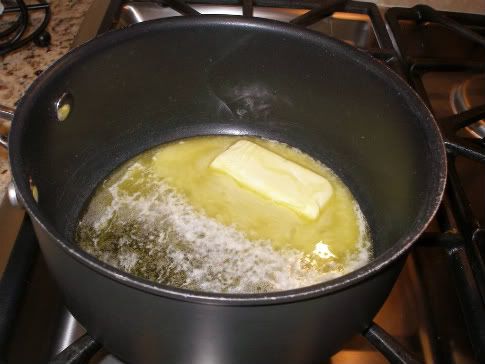 Add 3/4 cups of flour and mix well. You are making a roux right now. Cook it for about 1 minute to make sure there is no flour taste to the sauce later on.
Heat 3 1/2 cup of milk and pour a little over the roux. Start stirring. It will start to ball up on you. That's normal. Add a little bit more and keep stirring.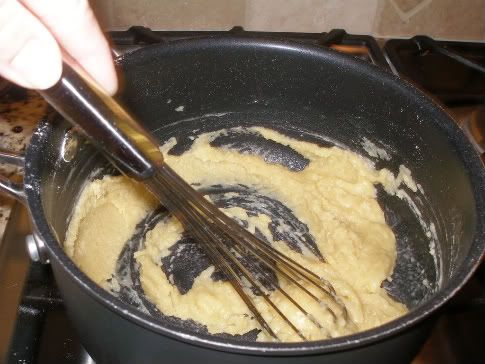 Once the roux looks like this then add the rest of the milk and stir.
Once mixed, add slowly the eggs mixture A LITTLE AT A TIME! Please, if this is your first time making a bechamel sauce or have never made an egg custard, do NOT dump the whole 5 beaten eggs in! You will have scrambled eggs in your Crema. Yuck!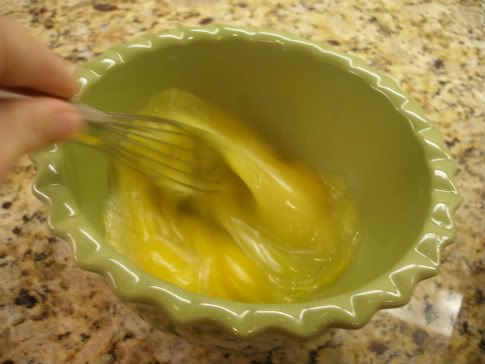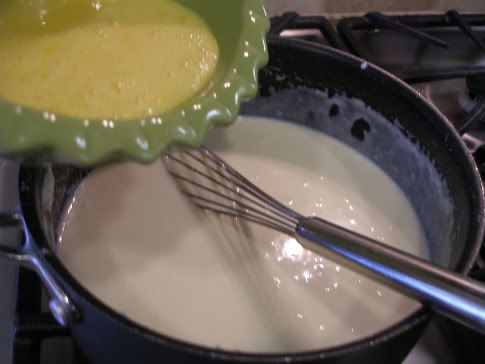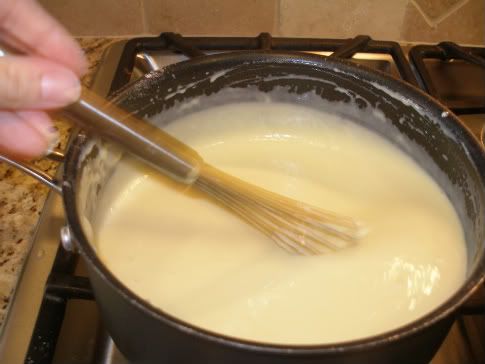 One all the eggs have been carefully incorporate, stir until the sauce gets a bit thick. It should cover the back of a spoon or the end of a wooden spoon like this.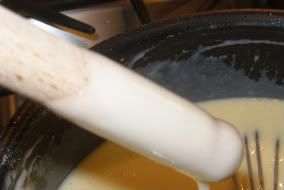 Pour the Crema on top of the meat sauce and bake in an over at 350 for about an hour.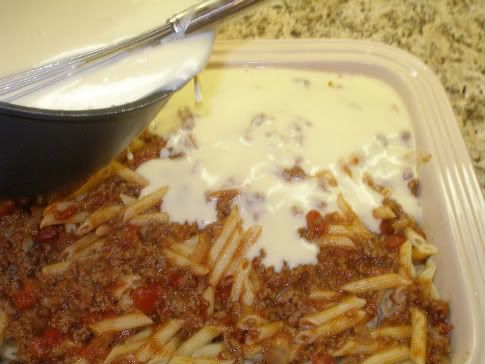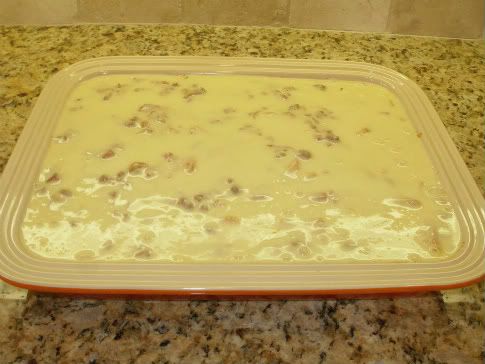 I lower the temperature a bit (to 325) because you will have splatter once it starts cooking. As you can see, the crema goes almost all the way to the edge so at 350, some of that will end up at the bottom of my oven. No thank you!

Once cooked, cool for about 30 minutes or more so that you can cut nice slices of it. Time to eat! I love this spatula! Got it at Williams-Sonoma years ago. It's perfect to get nice pieces of lasagna, pasticio, brownies, rice crispies treat and everything else! A must in the kitchen!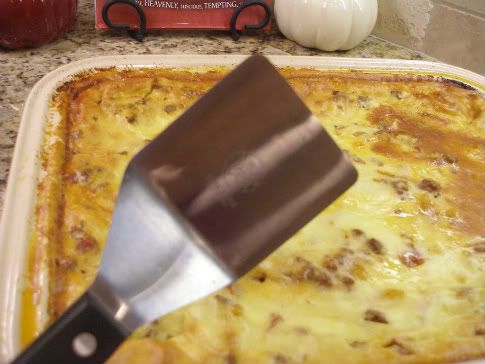 Here's my plate with glazed baby carrots and just picked from the garden roma tomatoes.
Hmmmmm yum!

Bon Appetit!