Get it???
Ahahahaha...
Ahahaha...
ahahaha
....
hmmm
Moving along! Today I carved my pumpkins. This was the first time I have ever done it a day before. I usually do it on Halloween since the weather would just rot my pumpkins. This year, I wanted to test the waters and try one day. This year my daughter also helped with the carving process. She thought it was gross and didn't want to touch guts. lol
So here's our Boo pumpkin that sat on the second floor ledge outside next to the skeletons. With morning dew and all, this is what it looked like. Kinda creepy,
non
? Look how excited she is!!!! Couldn't contain herself for the photo.
I asked my daughter to wipe it with a baby wipe.
Then came time to design on the pumpkin. I like to use templates and tape them to the pumpkin. I then poke tiny holes so that once the paper it out, the outline is there and I don't have to worry about markers showing yup.


My daughter trying at first...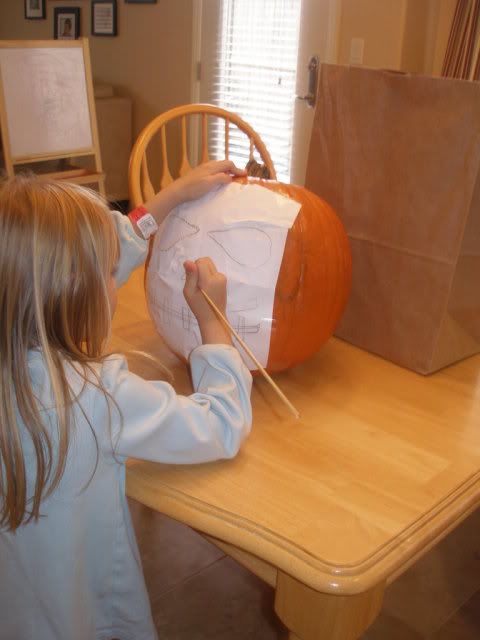 then she said it was too much work so I should do it. Nice. Did I tell you about the Snoopy Icee incident? Where she took over 35 photos of me trying to make a snow cone? Well she did it AGAIN! sigh I only kept 2 although it was funny to see my expression photo by photo. lol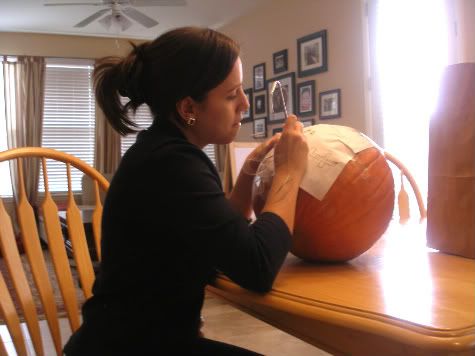 Now I have to cut out the top. Look at my side door. Looks like a tunnel to the "other" side. Spooky!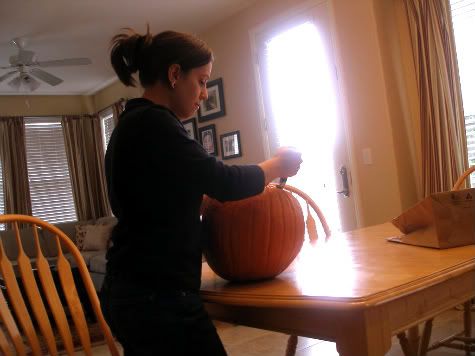 And her first real look and feel of seeds. This year I will roast them and see how they taste like.
Typical clean feak expression!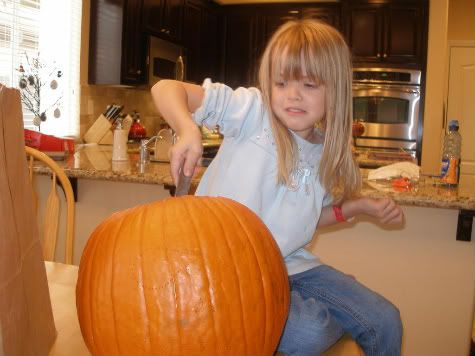 Hmmmm
Look mom! Ewwwww!

My son wanted to see what the big deal was. He didn't want to touch it since he would get dirty that way. Dear Lord this cleaning disease...er gene is in my children!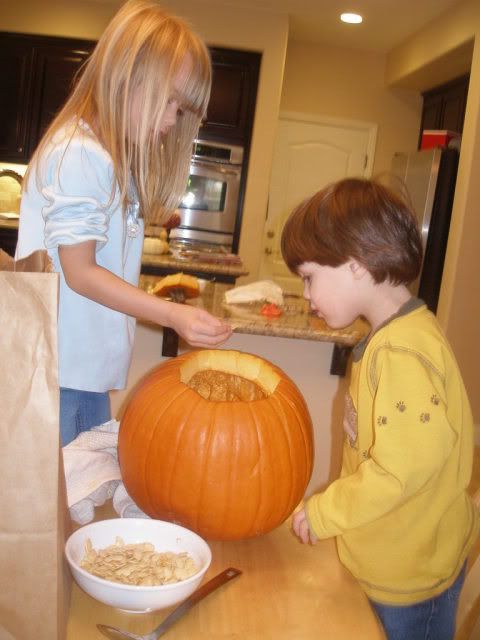 When all is done, here is what it looked like. I need to make Jack's grin a bit longer on the right left side (right on the pic).

I also did a haunted forest. I usually do a bit more complicated carvings but this year I opted for only one. This one took me an hour. I need to get those Dremel tools for next year! I also need to drill 2 tiny holes for the owl eyes and it'll be done!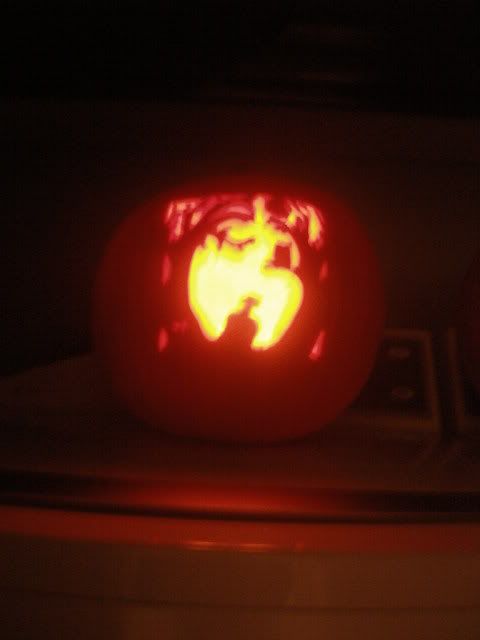 When they were in their room napping, aka playing, I was able to get my Halloween goody bags ready for tomorrow. All 60 of them filled with chocolates, candy and lollipops. Each bag hold 4-5 pieces of candy. They also get either a teddy grahams snack bag or cheetos (for the older kids).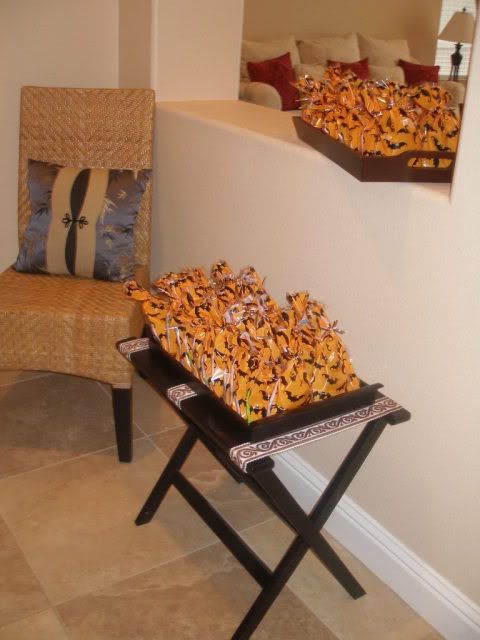 I still have mini chocolate bars left. Those are for the teenagers that are not dressed. They get 1 or 2. Sorry but this is a Holiday for children that love dressing up, not for kids that can get their own candy and come with regular street clothes. Sorry but can you at least do something for this holiday??? I'll also have some pirate patches if I feel generous and give it to them. Maybe with something, they might get a better reception from old ladies like myself.
Happy Halloween!