when all through the house, not a creature was stirring, not even the house...wife
. Scratch that!! Boy was I stirring! Guess what was in my mailbox today??? My prize that I won from
New Every Morning's
giveaway! Woohoo! Happy dance people! This cookbook is special since the recipes have only 5 ingredients and will take 30 minutes. I am already eyeing the Honey-Teriyaki Chicken and the Shrimp with Hoisin sauce. Not only did I win the cookbook but I also won a $5 Starbucks gift card! Tomorrow I will be volunteering at my daughter's class to correct the children's homework and file their weekly work (her teacher is off tomorrow). Guess who will be sipping a Tall Mocha Latte in her pimped out coffee tumbler???Any guesses???
Moi
! Can you tell I'm so happy!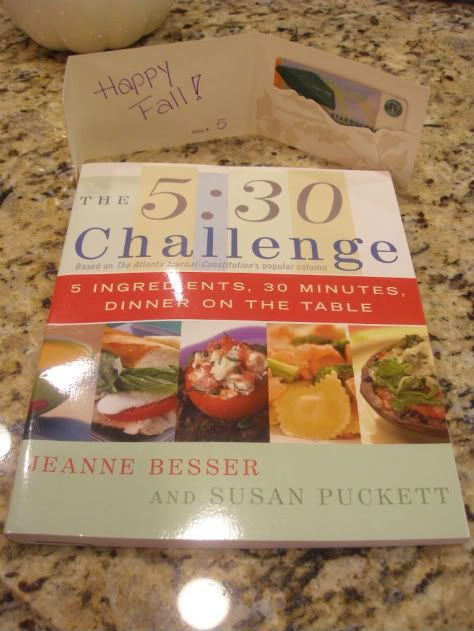 You guys should check her blog. Good stuff! I especially liked her newest post, Vertically Challenged, At 5', been there, done that! That thing about 10lbs is like 20lbs for us shorties?? So true! It took me 5 months to lose 10lbs and I was exercising 4-6 times a week for about 1 1/2 hour each time! Ugh! Anyway, thank you G (not sure if you want to be anonymous.) for the prizes! I love them!

A Bientot!