Yesterday as I was shopping, I stopped at World Market to get some goodies that you can't get in "normal" grocery stores. Straight ahead was the Christmas display so I kept walking and stopped at an advent calendar. It was meant to be! It's so cute! Little knitted mittens and hats. I can stuff 2 things inside of each of them so both my children will have a treat. It comes with 24 mittens/hats and not the usual 25 like other advent calendars. Perfect for me since on the 25th they will open their presents. The cost is only $19.99.
As I was leaving the store, the manager gave me a bag of roasted coffee beans to celebrate their 50th anniversary. Does she know what she just did??? I've been drinking more decaf because I know I'm drinking too much coffee lately. I took a whiff of the bag and ohhh soooo gooood! Man, this week has been really good to me!

My last stop was Bath and Body Works. I needed to get more Winter Candy Apple soap. I LOVE that scent! Last year I gave all my friends at my Cookie Swap a bottle of antibacterial hand soap. Last week I almost bought all from 2 shelves at that store except for 2-3 bottles. Others might want some too.
AsI went in to buy more as presents, I thought what a blessed life I have. I am healthy, have a great family and seem to have many blessings fall upon me. I believe in Karma so maybe that is why?? Anyway, I wish I could just share my blessings so that everyone will be happy with times being bad right now. So I thought I would get something for one lucky reader. Woohoo!
The gift is a big bottle of hand soap and hand lotion in Winter Candy Apple scent. It comes in a cute chrome container that would look cute anywhere. Just leave me a comment in this post and you will get entered. You have until Friday, November 14 at 9pm (PST) to enter. I will draw a name on Saturday and post it during that weekend. May some of my good luck rub off on your all!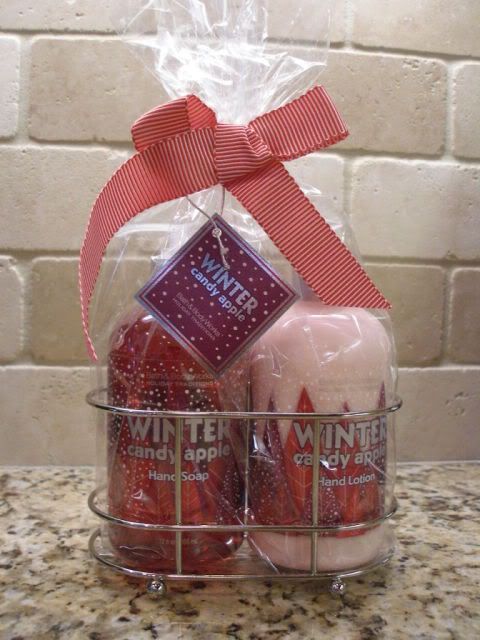 Bonne Chance!