So this morning I was feeling a bit eh because of yesterday news. (There was also a shooting at Toys-R-Us in S. Cali but cops think it's more about gang rivals. Yeah. Nice) My daughter woke up asking when we'll decorate the Christmas tree since it's been up since Thursday. By my usual standards, it would of been done last night as the kids would sit around the lighted tree.

So this morning, I started getting the ornaments out from the garage. I let my kids hang some unbreakables ones on the tree while I tended to my kitchen chandelier. I wanted something festive so I looked at what I had in my bins for years. All that was needed was some berry garland, snowflakes, christmas balls and red ribbon. All that combined made this.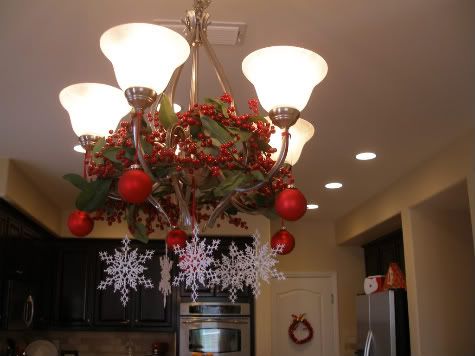 I'm quite happy with it. Wasn't sure about what color the balls should be but I think white or silver wouldn't pop as much since the snowflakes are white. One project down, God knows how many to go!

A Bientot!