This Christmas year, none of my silver got tarnished but I remember when I had candlesticks completely tarnished. I thought it was good for the garbage but wondered if there was a product for just such a thing. I went to my local, small hardware store and saw
Twinkle
. Catchy phrase and it actually works!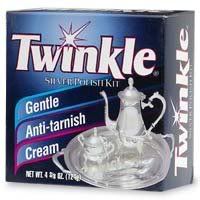 Using this product is very simple. Just dampen the rounds sponge applicator, rub Twinkle all over the silver, rinse promptly in water than polish dry with a soft cloth. Voila! Now I bought this over 7 years ago and still have the original box! A little goes a long way! It's not that expensive too. It's between $3.50+ for the 4 3/8 oz box. And it doesn't burn your hands using it so no worries if you get some on yourself.

For those of you that love garage sales, this product is a must! People today don't try to even see if they can restore silver and just dump it or sell it at yard sales. I have bought a small compote/candy dish for $1 because it was tarnished. Now it's shiny and looks like new! I'll show you guys on a later post since I'm using it for a Christmas decoration.

So don't throw away your tarnished silver. Try this product first and see if it can take away that nasty tarnish! Maybe have it in your purse when you are garage saling. Do quick swipe on a item and you'll know if you should buy it! Just sayin'...

A Bientot!