The day after Halloween, the weather was disgusting in Nor Cal. It was dark, dreary, cold and rainy. The whole day! Ugh! I wanted to make something warm for dinner to make my family bellies all warm and toasty. What better day to make soup. Not just chicken or vegetable soup. Nope. A creamy, thick soup that will coat your belly and make it sing. Butternut squash soup will do that! Here's a recipe that I make during the winter times. This recipe makes a huge batch so I usually freeze half of it or a bit more depending what my dinner menu will be for the week. Allez à vos cuisines et commençons à cuisiner!

Ingredients.

1 Butternut Squash, roasted and peeled
2 Heads of garlic, roasted and mashed
1 large Onion, chopped
1/4 cup Butter
7 cups Vegetable stock (I'm sure chicken stock will do too)
3 Potatoes, peeled and chopped
1 large Sweet Potato, peeled and chopped (yams will do too)
3 Carrots, peeled and chopped
2 Celery sticks, chopped
1 cup Water (if needed to thin out soup)
2-4 tbsp Olive oil
1/4 tsp Black pepper
1/4 tsp Goya seasoned salt (I use kosher salt)
1/8-1/4 tsp Cayenne pepper
4 oz Cream cheese, softened
2-4 tsp Sherry

Heat oven at 400 degrees.

Ok, first get a nice size butternut squash. Try to sneak in the knife without it seeing it. There's nothing worse than cooking with an emotional squash!
Drat! It saw it! Well this is uncomfortable....
Oh come on! You've been in my kitchen for one week. You know how it works so why the drama. You'll have sherry in the end!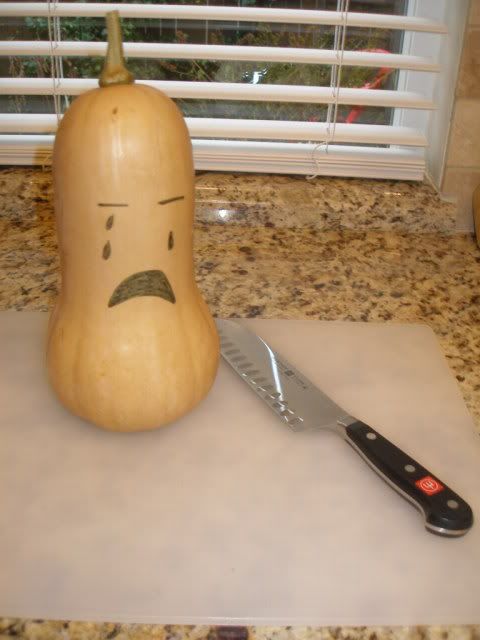 Ok, after you have calmed down the squash, cut it in half and clean out the insides. Use a spoon so that you can scrape the sides down easily.
Now place them on a jelly pan, stone or cookie sheet.
Here's a tip
, use parchment paper so that when the time come to clean up, you won't have anything stuck on your pan. Take out paper, rinse the pan in water, voila!
Rub olive oil on the squash and season it with salt and pepper. Set aside.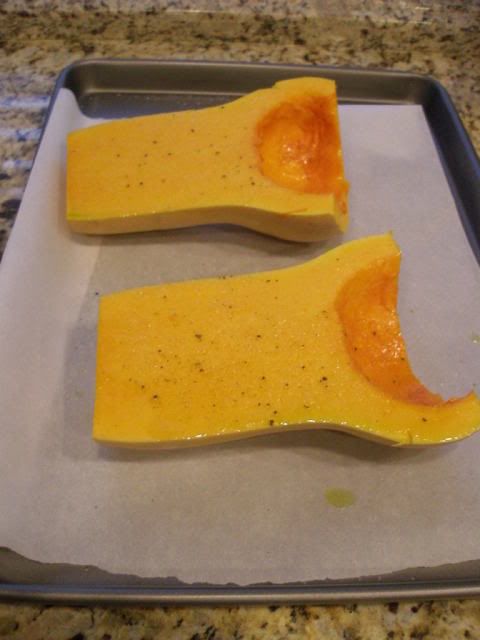 Now get your garlic and chop off the top of it a bit. Now drizzle some olive oil and wrap them in aluminum. Roast in the oven the garlic and squash for about an hour or until they are soft. The smells that will come out of your oven is amazing!
Almost an hour later...
Now chop your vegetables.
Melt your better in a stockpot. Add onions until they are translucent. Now add all the vegetables, mashed garlic and squash.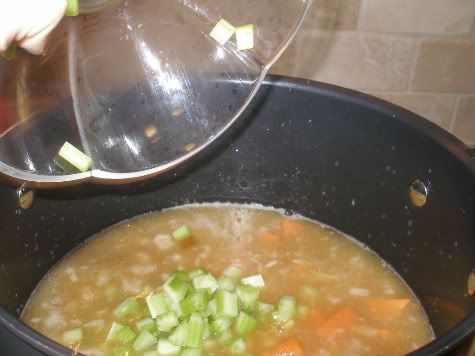 Here's what the roasted garlic look. Some fell on my hand and magically disappeared. Oooh if I had some baguettes, I could of smeared it with butter and that garlic. Drool. Now squeeze the garlic head and the garlic paste will come out.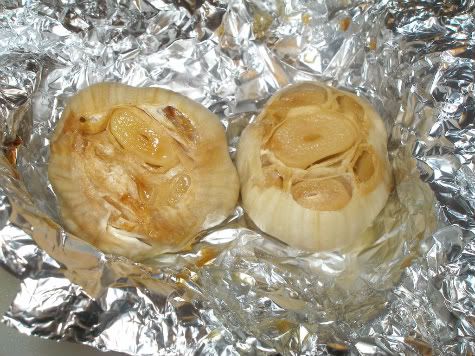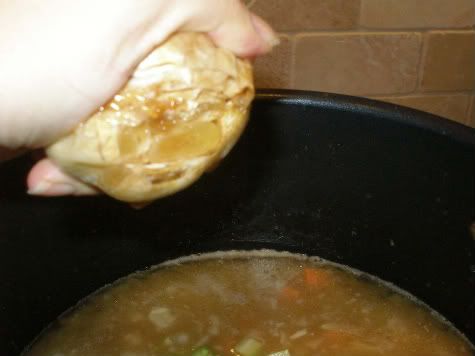 This is how the squash looks like after it's been roasted and cooled. It's very easy to peel them with your hands and chunks of it will fall into the pot.
Now stir and mash the squash. See how thick the soup is getting with the potatoes and squash in it?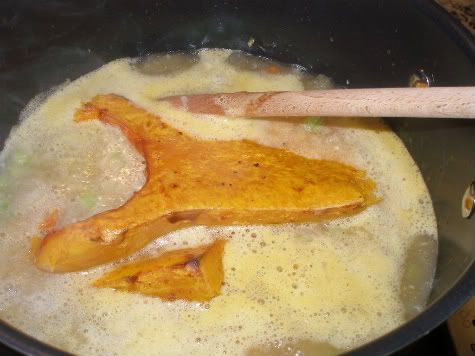 Now add your cream cheese and stir that in too.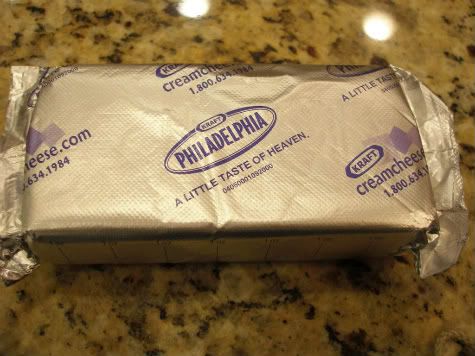 When you are done, if you have those puree sticks, start pureeing the soup and add any water if it's too thick. If you are like me and do not have that gadget, get your blenders ready!
Puree the soup(may have to get a big bowl if you have to make it in 2-3 batches at a time).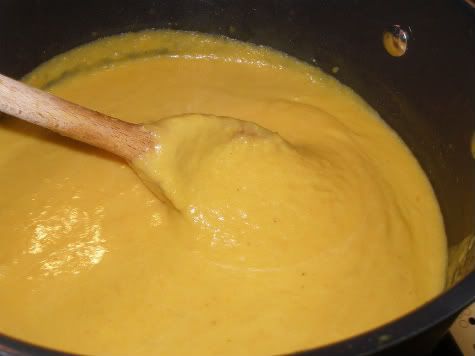 Now add the cayenne, black pepper and seasoned salt. Taste the soup. If it's missing something, add it to your liking.
Hello Cherie er I mean Sherry!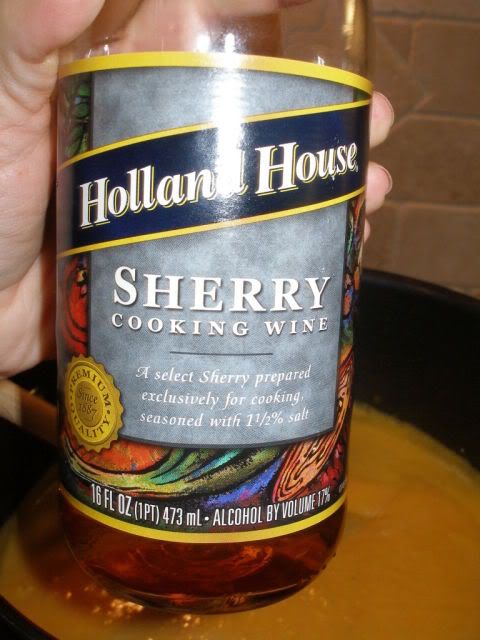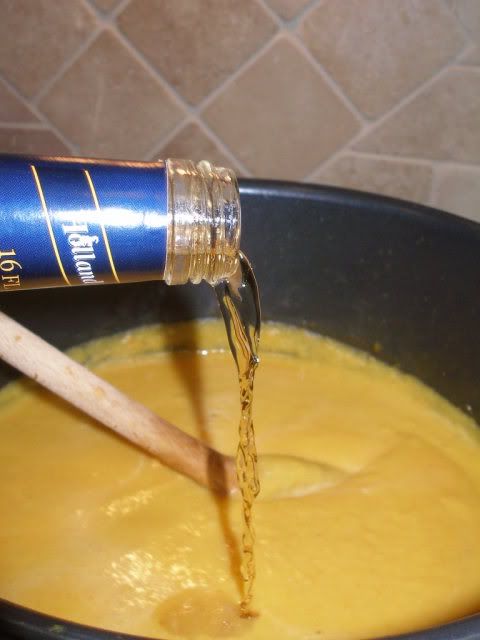 Add it to the soup and stir. Taste. Needs more? Add some. If not, you are done! Now ladle the soup into bowls. Hmmm something is missing...
There! A bit of
creme
and all is well!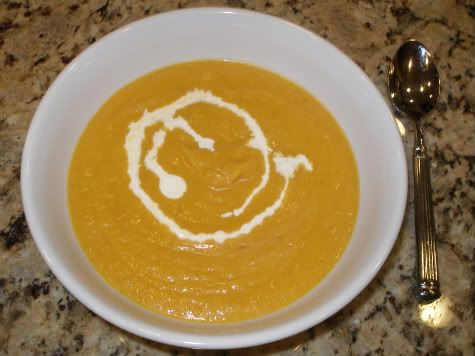 I love my son's expression in this shot. If a toddle will eat it, then it must be good! See that little runny nose??? It was really a dreary day. Oh and he's a messy eater too but I adore him!
Bon Appetit!