This Sunday I was feeling quite bored and didn't know what to do. After doing my usual errands, I kept thinking of when I was a child during Christmas.My parents would bring home cakes and pastries more often than usual. Then I remember a Portuguese yellow sponge cake that I loved. Pão-de-Ló. This is a yellow cake and very common in Portugal. I don't have the pan yet (guess who's going shopping this week!)for baking it but a Bunt pan would suffice. Here's my recipe for this cake. It's different than North American sponge cake and once you taste it, you'll see why. It's eggy if that makes sense to you and there's no butter in this recipe! Enough babbling and on to the kitchen!
Allez!
Ingredients.
7 Eggs, separated
2 cups Sugar
1/2 cup Hot water
2 tsp Baking powder
2 cups Flour
1/2 tsp Lemon rind, grated or zested
Preheat oven to 350.
Beat the egg whites until stiff peaks forms. Here's a tip for new bakers. Put your stainless steel bowl in the freezer for a few minutes. Having a cold bowl is the secret to stiff peaks. lol
Starting...
Almost there...
There!
Stiff peak.
Cream the yolks, sugar and lemon rind until it is creamy.
Now add the hot water and mix well.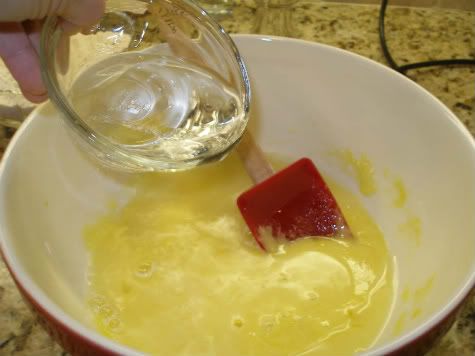 Fold the egg whites to the egg mixture. Add the flour and baking powder and mix well.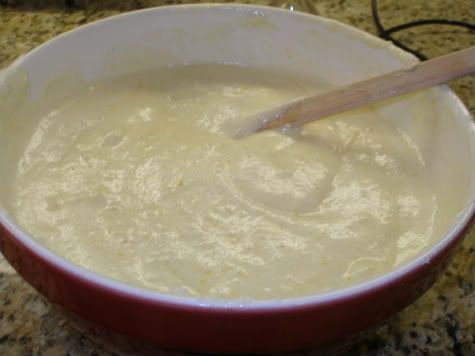 Butter and flour (or use Pam with flour) a tube pan (like for angel cakes) and pour the batter. It will almost reach the top of the pan. Don't worry. It's not going to rise much since this isn't your cake mix kind of cake.
Bake for 35-40 until it's lightly golden. Insert wooden skewer to test for doneness.
Cool on wire rack for 10-15 minutes. It's suppose to serve 10-12 people but it served my family of 4 quite well. I still have 1/3 of it wrapped up!

When that cake came out of the oven, it reminded me of so many past memories. And after one bite, yeah, I was there. Funny how smells or taste can take you back. Now I'll be passing this tradition for my kids since there is no Portuguese bakery in this city. Grrrrr! My cake did not turn out "light spongy" but it could be because of the pan or that this was my first time making this cake. Next time I'll have the sponge cake pan and see if that makes a difference.

Bon Appetit!