Yesterday I spoke to my best friend from Montreal. With distance and our leading different lives , it's hard to actually catch each other at a good time to chat. We talked about our families, how cold this winter is and the past. It's always fun to think about how we were as pre-teen and teenage years.

Melanie and I are opposites. I was a chatterbox while she was quiet. I was very social and she liked to be alone. What we had in common was common sense (rarity as teenagers), enjoyed each others company and not being influenced by other people. I guess we were goody two shoes although my parens thought I was a wild child because I had my own opinion. lol I had my own "gang" of friends that would meet me at my locker until the last year in high school. I had french and english friends. My french friends were quiet while my english friends were not. Maybe it was because they were Portuguese and Italians. We are quite vocal! hihihi

So I cracked open my old photo albums and my yearbook. OMG! How young and skinny I was! And the hair! Good lord the hair! Hairspray, gel, teasing and perms. I like to laugh, even at myself. You have to, right? And so, I will share you my old photos. For those of my age, we looked cool in those days, right? For the young ones, eh?! In 10 years your kids will laugh at you. Promise.

Here's part of my 6th grade class where Melanie and I met. Can you tell which girl I am?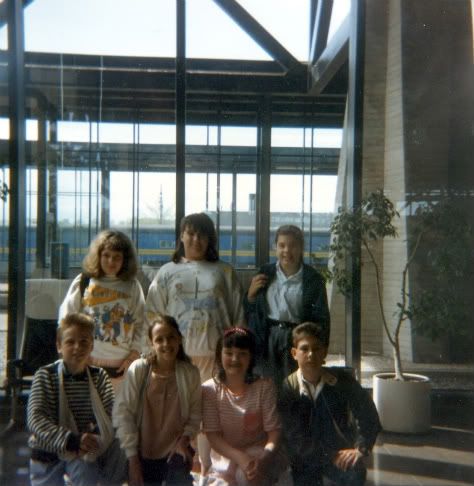 Here's my graduation photo with a caption written from a friend of mine. Translation: She calls herself "sexy", sweet voice and seductive??? Her personality: love to joke around, responsible, generous et realistic. Her passion? Reading. Ok, let me explain the sexy thing. I would joke around with my friends that I was sexy and all but I never said it believing it. Just being a brat.
Prom night. My best friend is the girl on the left. I'm the shorty one.
My friends and I in Physic class.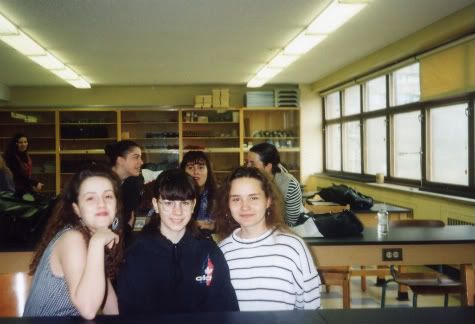 My friend and I dancing the Lambada. Remember the Lambada ladies??? Ahhh good times!
My best friend and I.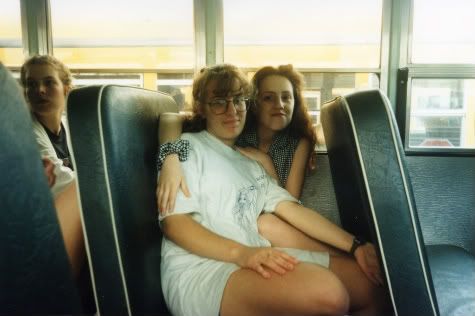 And the finale pic. LOL This was taken at my dad's friend's daughter's wedding. Got that? lol I was drinking coke but in a wine glass. In Portuguese culture, drinking a small glass of wine as a teenager is no biggie as long as they are there. Alas I don't like the taste of wine. That's my mom
next to me. soupir. Look how slender I was at 17. Good time, good thighs...
Hope you guys had a good laugh. I know I did.
A Bientot!