During naptime, the doorbell rang and I thought "Girl Scout Cookies?" Yes, I was craving something sweet. At the door I see this box with Avon on it. Avon? I haven't bought Avon in years! So I pick it up and it's from
Adrienne
. Click! My prize from her giveaway!
Want to see what I won? Ok, ok, here is it. Isn't it cute?! And the perfect color too! They're melamine nesting bowls with their lids. Now I can let my daughter mix cakes/muffins without worrying that the ceramic bowl might fall and break.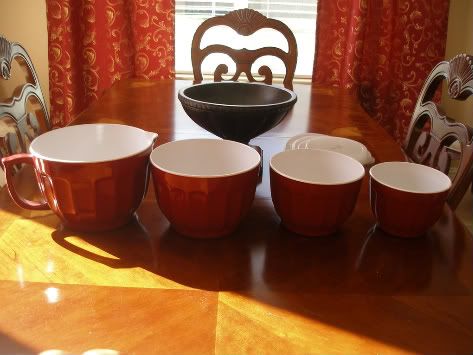 Thank you Adrienne for the bowls! I love them!
Also,
Adrienne
is having another giveaway. Go check it out before it ends on January 30th! You might win this awesome prize. What is it? You'll have to go to her blog and yes, I did enter.
Bonne Chance!