I was tagged by my friend and fellow blogger, Becca, to show everyone my purse. Hmm. Do I really want to show everyone what I had inside? Will you think I am weird? Funny? OCD? lol Well here goes! My cute Nine West purse that my mom got me for Christmas.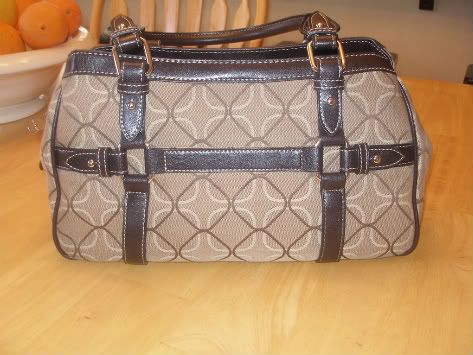 Inside I have little compartments so I also took everything out since they are inside my purse. We have my wallet, cell phone, coupon folder, granola, toilet paper to go, bandaids, wipes, compact mirror, gum, Aleve, one cough drop, Crate and Barrel tape measure, the Nine West card that was inside, mints, recept from Micheals and my Children's Place Perk card.
Ok, so you may notice I have alot of wiping items. I got the toilet paper to go in case I ever had to use it last minute while I was potty training my son months ago. Never had to use it but hey, if we ever get lost in the woods...lol. Those mints I got them for free and they served me well when I waiting for over an hour at Crate and Barrel After Christmas Sale. My only source of nourishment in those terrible hours. lol
Now I need to tag 5 bloggers to play this game.
1)Corey
2)Jodee
3)Suzanne
4)Jen
5)Rosado
A Bientot!