I'm a people person. As long as you are a nice person, I will like you. I enjoy having people over whether it be friends or family. Last year I had some vinyl lettering put on my door to welcome guests that stop by. Once inside, I have tall ceilings and a bridge that connects each side of living space. I always thought it needed something to greet my friends. And so the search begun!
I searched on Etsy and on Yahoo for something cute and I found it.
Thoughts that Sticks
is a great website where they have some nice sayings or decals for your home. Go and check them out but be careful...your shopping cart might get full quickly! Shipping was quick. I am happy with their services.
Here's how my entrance looks now. I'm really happy with it. Now I have an empty spot in my daughter's room that needs a sassy sentence.
Hihihi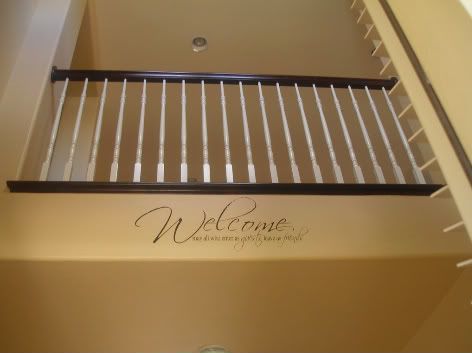 A Bientot!