I happened to fall into this recipe while reading my food blogs. This recipe came from
Smitten Kitchen
. I have NEVER done a homemade tart before. I always used pre-done crusts. This time I wanted to try it and I have a Meyer lemon tree and this recipe only needs 1 lemon. That's it! Works for
moi
!
I have since then made 2 tarts in less than a week. The kids love eating the lemon filling and leaving the crust for me since it has no lemon "jam". Kids?! Now it is sweet when using a Meyer lemon since those are not sour. If you like it tart, then use an Eureka or Lisbon lemon.
Lemon Tart
Ingredients
for tart shell or use your own favorite recipe.
1 lemon, rinsed
1 1/2 cups sugar
1 large egg
1 large egg yolk
1 1/2 tbsp cornstarch
1 stick unsalted butter, melted and cooled
Preheat your oven at 325 and center the rack on the middle.
Put your partially baked tart shell on a cookie sheet and put aside.
Before baking
After, partially baked.
Now slice and remove seeds from the lemon. Toss it in a blender with 1 1/2 cup of sugar. Puree it until it's all smooth, about 2 minutes.
Pour the lemon mixture into a bowl and whisk the egg and egg yolk together. Add the 1 1/2 tbsp cornstarch and cool melted butter. Notice the bowl? It's the one that I won from Adrienne (Thank you again!).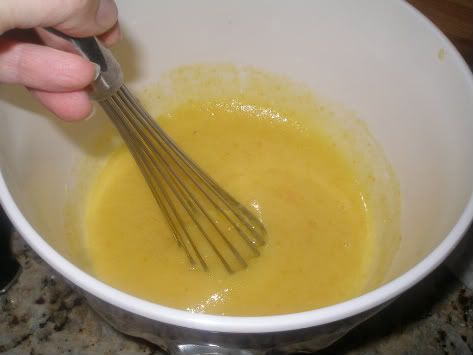 Pour the mixture into the tart shell but leaving 1/4" space from the top edge of your crust.

Bake the tart for 20 minutes. After the minutes are up, increase the oven to 350 and bake an additional 15-20 minutes. It will start bubbling and get a light brown at the top. When the baking is done, make sure it is set by gently giggling it and nothing is sloshing about.

Cool of a baking rack for for 15-20 minutes or you will burn your tongue.

My family loved it so much that I made a second tart a few days after the first one was gone. I tweaked my baking time since my oven heats quickly and it browned my tart a bit too much for my liking. I also had some leftover filling since my tart shell shrunk.
I haven't mastered in making the perfect tart shell. Looks like I'll be making more tarts in the near future though!