When I get tired of making pasta or beef dishes for dinner, I try to make pork meals to change things up. I always buy pork tenderloin but this time I wanted to try a pork loin instead. I am always afraid that it might get to dry since pork is lean. My daughter had thirds at dinner time and to me that's always a thumbs up! I like my meat to be a bit pink but if you are scared, cook it fully (internally 165+).

Roast Pork with Thyme
1 3lbs Pork Loin
1/3 cup Italian style breadcrumbs
1 pkg Dry Onion soup
1 1/2 tsp Dry Thyme
2 Egg whites,beaten
Salt & pepper
Preheat oven to 400.
Rinse and pat dry your pork loin. Season your pork with salt and pepper.
In a pyrex dish, mix the onion mix, breabcrumbs and thyme all together. In another pyrex dish or pie plate, pour the beaten egg whites.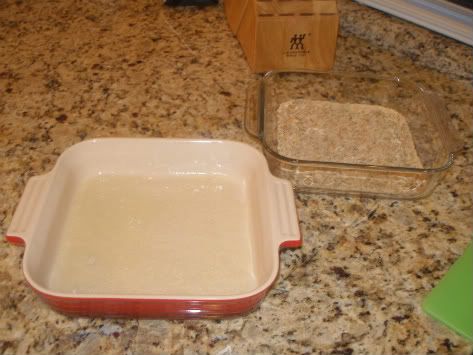 Put the pork loin in the egg white mixture and turn it to cover it thoroughly.
Now dredge the pork in the breadcrumbs and make sure everything is well coated.
Put your pork loin in a baking dish that has been coated with olive oil or cooking spray.
Cook the pork for 1 hour or until the meat is fully cooked (165 internally) or longer if you do not like some "pink". Once cooked, let it rest for 10 minutes. Slice it up and serve with potatoes.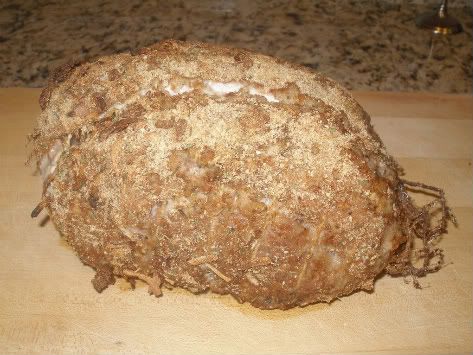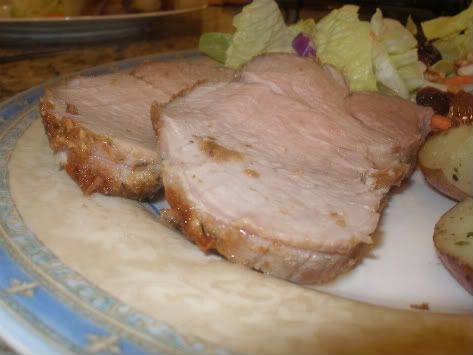 Bon Appetit!