Do you like ribs? I don't. I LOVE ribs! With my father-in-law staying with us, I thought this would be a perfect meal for dinner. I usually make a rub for my ribs but decided to try out a new recipe. I got it from
Mrs Sac's Purple Kitchen
. It was delicious and tasty. Next time I'll shopping, I'm getting a meatier rib.
hihihi
I like meat on my ribs!
Lets get started!
Ingredients.

2 1/2 lbs Pork Spareribs
2 (8 oz) Bottles of BBQ sauce
1 Onions, quartered
1 tsp Salt
1/2 tsp Ground black pepper

Now starts by taking out the silver skin from the back of those ribs. I think people don't try to make ribs because they think it's too complicated to cook them. I think it's because they don't know you need to take the silver skin out. That sucker is tough and not edible so take it out. Hard to break the ribs apart with that skin on. Once that is removed, it's smooth sailing from now on!
Now get a large stock pot or crock pot and put your ribs in it. Add the BBQ sauce, salt, black pepper, the quartered onions and enough water to cover the meat. On high heat, start the ribs boiling. Once it it hits on a full boil, lower the heat until it's just a rolling boil (smaller bubbles instead of large one). Cook for 40 minutes.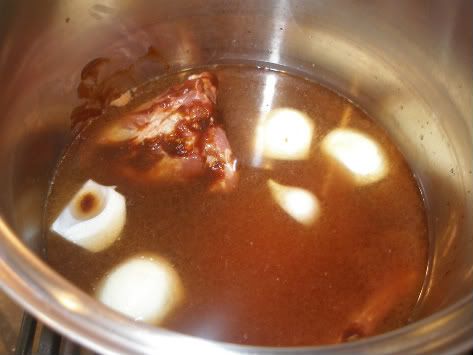 Once done boiling, remove ribs from the pot. Ladle some of that sauce into a bowl. You will need it for basting the ribs on the gill.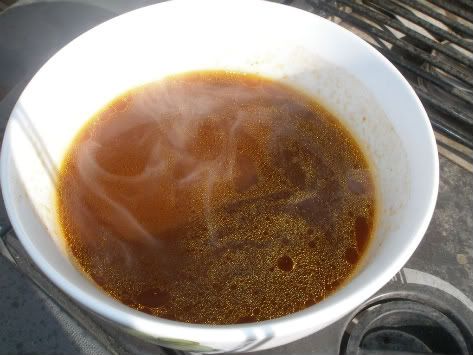 On a oiled grill, medium heat, place your ribs. Baste them with your sauce, turning them over once. Keep basting it for about 15 minutes.
Remove from grill, cover them in foil and let them rest for about 10 minutes. . Separate the ribs for easy eating when they're ready. They are tasty and tender. Not bad for my first time boiling ribs. I usually broil them in the oven first then finish them off on the grill. I think I'll make this recipe if time is not on my side since it's quicker than my regular method.
Bon Appetit!