A few weeks ago I planted my vegetable garden but for got to post about it. I know. You guys weren't able to sleep thinking "Did Nancy plant her garden???!!! I NEED to know!" lol Ok, ok, maybe not but it makes me feel important if you did. Just kidding!

Last year hubby built one raised garden bed but I needed another smaller one. We get a lot of sun and those veggies grow crazy! I asked hubby to built a smaller one for moi. Monsieur said d'accord. I love him! I think I asked for a 5'x4' this time. My zucchini plant grew wild like year and I wanted it to be separate from my main vegetable garden.

Here's what hubby build.

This is what it looked like when I started planting my garden.
This is what it looks now. Those tomatoes grew wild AGAIN! I'll have to move my bell peppers or they won't grow this year. In the same bed, I also planted some sweet white onions. I think 2 of them is ready for the picking since it's big. I can wait though.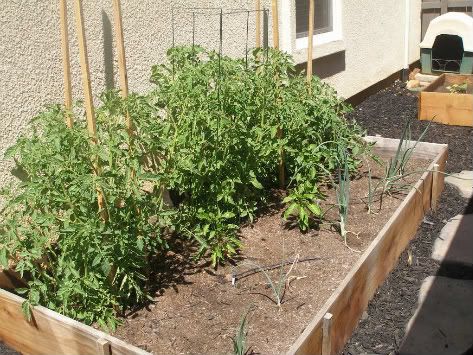 Here's my other garden bed. I have 2 roma tomato plants, one zucchini squash and a cucumber plant.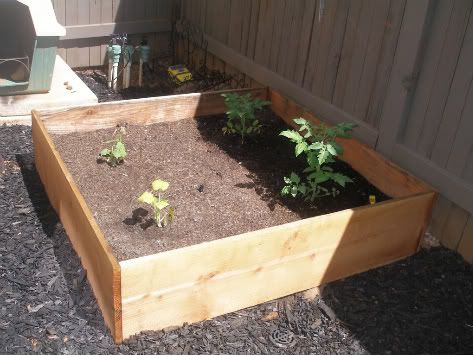 I need to put the stone pavers but I need to buy sand to level them on the ground. We have clay soil, AKA cement dirt and you can't disturb it without a jackhammer. It's that bad. sigh. Anyway, I can't wait to pick my first tomato!
I also planted some blueberry plants and a raspberry plant...but that's for another post. Please try to sleep well until I post about them later on. hihihi
A Bientot!