Well it's done! My daughter's gift for her teacher is completed and ready to go. My friend Corey commented that she hopes it's not homemade panties. lol Now THAT would be a project! lol Sorry Corey, no panties today.

Here's her teacher's gift.

I think it turned out cute. It's a survival kit. I can just imagine having 20 small kids for the whole day. I thought it would be nice to give her some essentials while she's working. Want to see what I packed? You do? Really? Ok, ok. Let's take a look!
All packed nicely and snugly so nothing will budge. Here's the complete list of what's inside.
Water bottle
Single packet of Propel Raspberry Lemonade flavor
Excedrin Tension Headaches (lol, you know she's gonna need it!)
TLC bar
Mini rice cakes
Tic Tacs
Wipes
Tissue
Hand sanitizers
Hand lotion
Homemade emergency nail kit (you always break a nail when your mani looks perfect!)
Travel sewing kit (pop a button? Hem unraveled? No problem!)
Stickers
Melamine bowl
Kashi single serve cereal (in case she rushes to class without eating breakfast)
Spoon
Pond Toilettes (same day she is rushing and didn't have time to wash her face. lol)
Shout wipes to go (in case of spilling something on your white shirt)
Small first aid kit
I think it'll do for her first week of school. lol I just hope she doesn't use up all those headache pills! lol
Here's how I did it. The paper and flower came from my friend's Kim. The woman has a small Micheal's in her house. lol
First I covered the edges of the lid. I used double side sticky tape. That sucker will stay stuck forever. If you mess up....you don't want to know. Just make sure you position it correctly.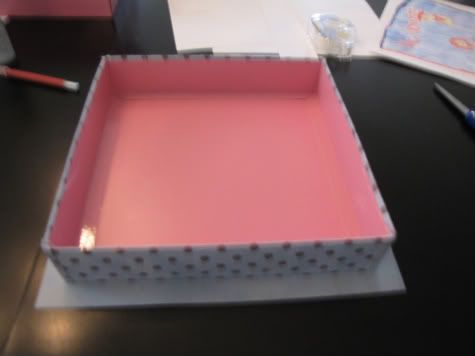 Here's my friend Kim. She's the one sitting not knowing I was taking a pic. hihihi

The I used the scrap paper for the top and used adhesive spray. Much more forgiving when fidgeting.
I then used a brown ribbon to go around the edge of that paper.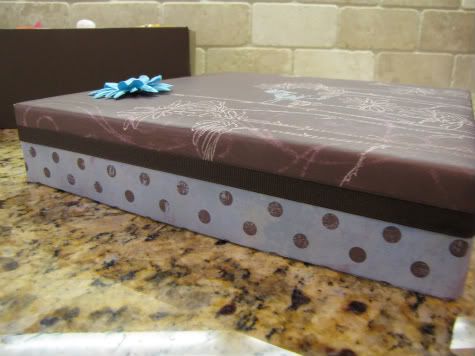 I hot glued the flower to the top and printed out that plaque on parchment paper.

I also covered the sides of bottom in paper. Didn't do underneath. Just don't look teacher! lol

I also put a photo of my daughter under the lid to make it more personal. She thinks it's beautiful and that just makes me feel even better.
And that was it! Simple, right? Just takes a bit of time. I hope she likes it and that she uses it when needed. I was going to put a seal and type "break seal in case of emergency" but decided against it. Maybe next year.
Are you doing something for your child's first school day? Care to share?
ETA: Here's what's under the lid. A photo of my daughter, taken from this year. She signed her name and year. She's a big girl now. Doesn't need mommy to write her name anymore. sigh
A Bientot!