Last weekend I bought 6lbs of Gala apples on sale. I wanted to try my hands in making applesauce so I got them. My husband and son loves to eat it so why not try to make it myself? I make my own strawberry jam so applesauce should come next.

There's no "true" recipe that I used since it depends on the amount of apples I had. I used Gala for my applesauce. Choose a sweet apple for making sauce. No Granny Smiths since those are tart. Good for pies but not applesauce. You can also mix the apples. Use some Galas and some Macintosh. You can also add some spices like cinnamon, allspice, etc. You are the boss!

Now I decided to can my applesauce so this post will reflect on canning it. Just skip the paragrpahs that are colored.

Ingredients

Apples
Water
Sugar (optional)
Cinnamon (optional)

First wash the apples in cold water. Now some people peel and core the apples. I didn't. I wanted to keep as much nutrients in my sauce as possible. I did however quarter the apples and sliced the core off a bit.You can peel if you want. Your choice.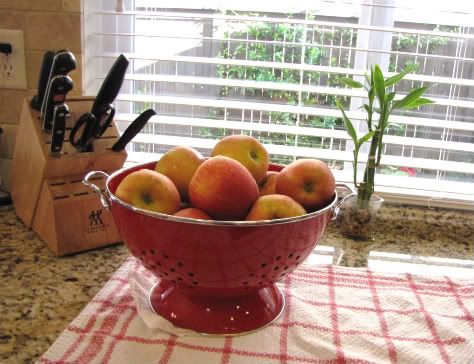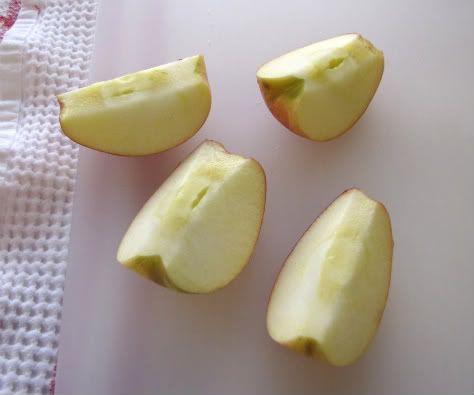 Now take a large stockpot and add water. The amount of water should be 1" in the pot. Now put the quarted apples and set the temperature on high. Once it starts boiling, lower the heat to medium and cook the apples until they are soft.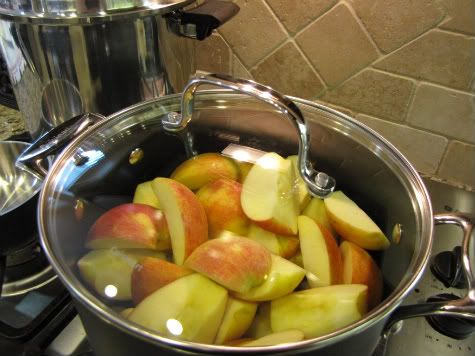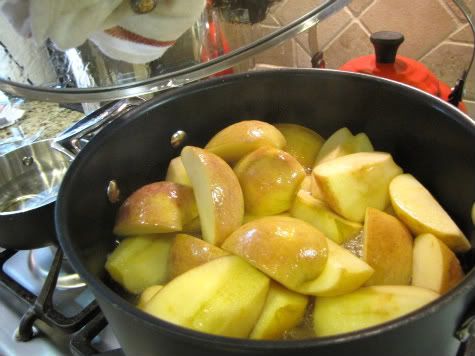 ***If canning, start sterilizing your jars. Wash them in hot soapy water and place them on clean towels. Put the lids in a small pot to sterilize those too. I put some boiling water in my jar so they can stay hot. You could just boil them in a different pot too. My friend's way is less messier. The jars should always be very hot.****



Depending on the amount of apples, cooking them shouldn't take long. Once they are completely soft, put them in a colander to get rid of the water. Get your food mill or Kitchen Aid sieve/grinder. I don't have the latter so food mill it is! Add a few of your apples in the mill and grind away! I can see how the Kitchen Aid attachment will make this process much faster. Or get a helper like I did. Ahh cheap labor!

Once done, you will have a pulp left in your food mill. Discard it. Now depending how sweet your apples are, you may or may not need sugar. In my house, I always buy the unsweetened applesauce but if you like it sweet, you may add sugar. Taste your applesauce and add 1/4 cup of sugar if you want. Not sweet enough for you? Add a little more until you are happy with it.
Now I added cinnamon to mine to make it different. By adding it, your applesauce won't be yellow anymore so don't panic! Let it simmer for 10-15 minutes. If you want it yellow, do not put cinnamon. And that's it! You can now put the sauce into jars and put in the fridge for consumption.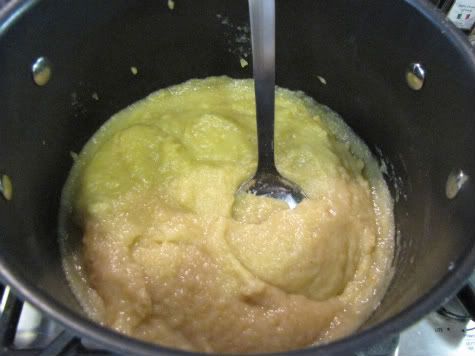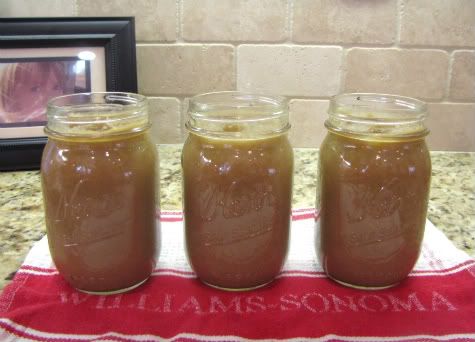 ***If you are canning, make sure your applesauce is very very hot! The water should be boiling for your lids and the large stockpot for processing. Get your jars, empty the water and fill them up. Leave 1/4" from the top. Remove air bubbles. Clean the edge of the jar and place the seal on top. Now place the ring. I made about 3 pints and a small bowl with my 6lbs of apples. Now gently put your jars into the boiling water and cover. Let it process for 20 minutes. Once done, remove jars and place them on a clean towel. Make sure they are not touching each other. They need space to cool off. Make sure the seal is set. Press down and it should be hard. That's it!****
My taste tester. Yup! It's good! It does take some time but I am new at this. I can also see how much easier it is when you have some help. Makes things go much much faster.