My husband and I rarely get to have a date. I am very protective of my kids and wouldn't go out without them unless it's an emergency. The first time I ever left my daughter was on the night I was giving birth to my son! I am better now in trusting people with them and I have a friend close by that we swap babysitting services with our kids.

Yesterday, hubby and I went out for dinner. We only go out to eat when it's his company Christmas party (no kids) so this is my second date night in 2009. I will soon have another one in December. lol

Since I love steaks, we went to Ruth's Chris Steakhouse at the Pavilions. It used to be Mace's (for those in Nor Cal) but it shut down over 5 years ago. I love the area since it was close to our first home. The restaurant was elegant and not too crowded since our reservation was at 6pm. It quickly got packed by 7:30pm.

We ordered crab cakes for appetizers. Those were amazing! My crab cakes pale next to these ones. Oh and they are called sizzling blue crab cakes because they actually sizzle! lol The plate is in an oven of 500 degrees so very hot. They tasted good with my Riesling too. lol For entrees, I had a Caesars salad with a petite filet with shrimp accompanied with mushrooms. Hubby got the tomato & blue crab soup with a bigger filet accompanied with garlic mashed potatoes. The meal was delicious! I was completely full and could not take the last bite of my filet. It pained me but I would burst from my dress! Not a sight I wanted people to see. It's a great restaurant but get ready to fork over some dough since it's not a cheap place to eat. Sometimes you have to live it up when you can!
For dessert, we chose the banana cream pie and the cheesecake with fresh berries. Both are enough for 2 people. We took them to go since we wanted our kids to have a special treat. After we picked them up from my friend, they quickly got into their pjs and devoured half of the desserts. We ate the rest afterwards. lol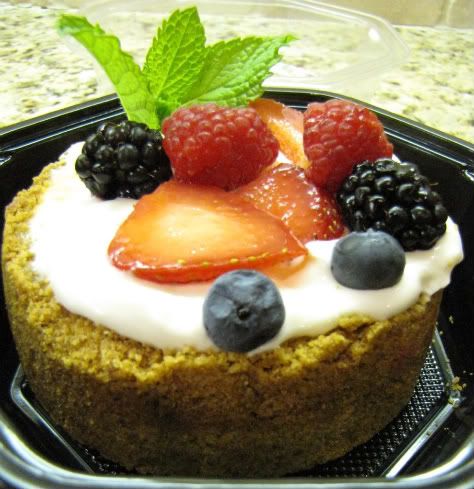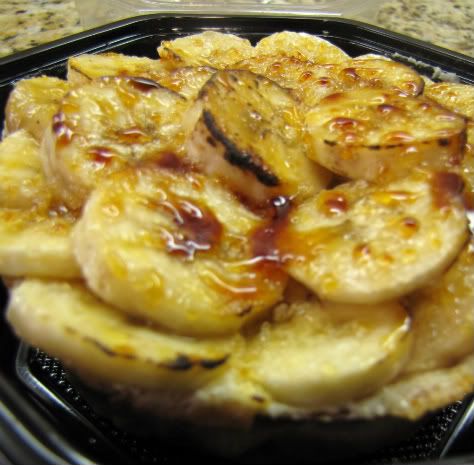 I had a great time hubby. We really should do a date night for often. So....next week? lol

A Bientot!