To my vegetarian readers, you may want to skip this post. This is for the carnivores out there.

For all you meat lovers, rejoice! I have a recipe that will make you dance or cry for joy. Ladies, if you need to deliver bad news to your spouse, make this dish. It will mellow them out and soften the blow.

I love mushrooms but hubby is not crazy for them. If you guys love mushroom, add a pound of them instead of my measly half pound. This time I substituted Sherry for Madeira wine that I found at
Nat Decants
and it was DELICIOUS! My husband cleaned his plate with the meat. Every bit of sauce was mopped with the filet. lol I think I may have changed his mind about mushrooms. Ready for the meal that will make your husband, boyfriend or girlfriend fall in love with you all over again??? Ok, get your apron on, hon. Sorry. Bad attempt with being funny.

Ingredients

3lbs Beef tenderloin, trimmed
1/2 lb Mushrooms, washed and sliced
2 Shallots, minced
1 tsp Garlic, minced
1 Tbsp Thyme
1/2 cup Cream
1/2 cup Madeira wine
3 Tbsp Butter
Salt and pepper

Start by preheating the over to 425.

Trim any fat or silver skin on your tenderloin. It shouldn't have much but please remove the silver skin at least. Season it with salt and pepper.

Get a skillet really hot and sear all sides of your meat. Sorry for the lack of photos. I remembered that this could be a great recipe for my blog.

Now put your seared meat into a large baking dish. Cook until the way you like your meat. Meat should be cooked at 160. My husband prefers medium well so I cooked it more to his liking. I prefer mine to say moo. Remember the meat will continue to cook up to 10 degrees so if you like it well done aka no pink, take it out at 150-155. Let it rest for about 10 minutes.

Clean out your skillet (or get a new one) and add the butter. Melt it on medium high heat. Now add the mushroom and saute for about 10 minutes. Add the shallots and cook for another 3 minutes. Add the thyme and cook for about 1 minute.

Add the Madeira sauce. If you have never used it, Madeira wine is a Portuguese wine (woohoo!) from the Madeira Island. Portugal is not only mainland but have islands too. That is where my parents are from (Sao Miguel Island. Different island). And that concludes your geography lesson of Portugal.
Now let the alcohol cook out from the pan. The flavor will be more concentrated in the dish. Cook for about4 minutes.

Now add the cream and mix it well. The sauce CAN be done now but a true Portuguese cook will wait for the best part yet.
The juices from the meat! Once you are happy with your meat, pour the juices from the baking dish into the skillet. Now cook for another 2-3 minutes. Taste and season to your liking. NOW it's ready.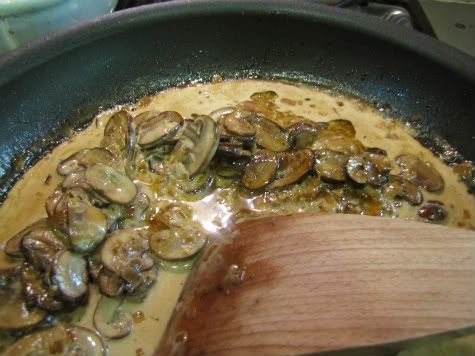 Serve this with mashed potatoes (or garlic mashed potatoes as I did) with some greens. Slice the beef and spoon the mushroom sauce over the meat. Step back and admire your creation. This deserves a 3 stone diamond ring..or something like that. lol

Ohhh man! Sooo good!
Bon Appetit!