Yup! First it was Taco Soup. Now...Lasagna Soup! And it taste pretty tasty too! Now I usually put more pasta in my "soup" than the recommended amount in the recipe. I like my "soup" a bit more thicker but if you like it more "soupy", only put the correct amount of pasta. The recipe is from the Family Fun Magazine.
1 Small onion, chopped or half a large onion, chopped
2 tsp Dry oregano (or about 2 tbsp of fresh, chopped oregano)
2 tsp Dry basil (or about 2 tbsp of fresh, basil)
1/4 tsp Red pepper flakes (did not use)
Shredded mozzarella cheese
In a dutch oven, pour the olive oil and saute the chopped onions until translucent. Add the chopped garlic and cook for about 30 seconds to 1 minute, tops!
My daughter cooking with me.
Once you they are done, add the meat and brown it. Remove excess fat from the pot. Now add the basil, oregano, bay leaves, pasta sauce, chicken broth and red pepper flakes (if you are using it). Let is simmer for about 20 minutes.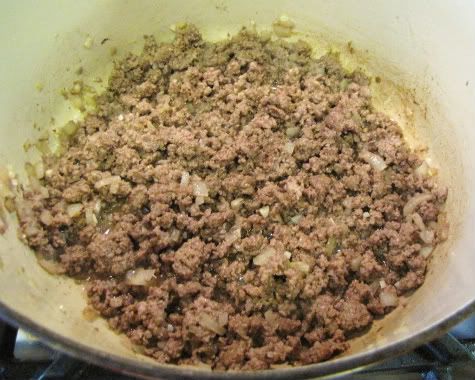 Once the 20 minutes are done, turn up the heat and let it go to a boil. Add the pasta and cook it for about 8-10 minutes until it's el dente.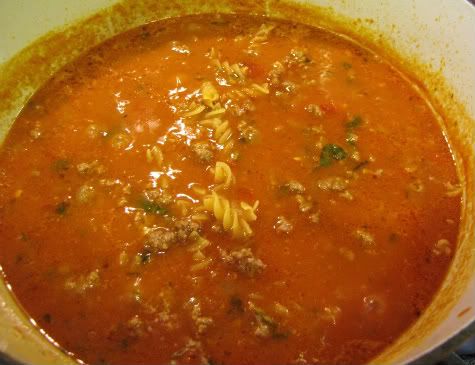 Taste and see if it needs salt. Laddle it in a bowl, top with shredded cheese and fresh parsley.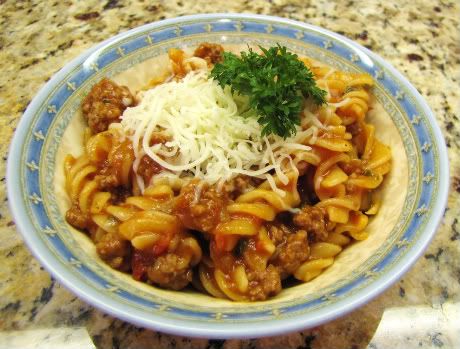 Bon Appetit!