Get ready to be shocked and dumbfounded by my statement...I have never eaten a Sloppy Joe! I have seen those commercials on tv as a kid and always wondered what the kids were eating. Mush in a bun? Meat? All I remember is seeing their faces smeared with a red sauce. Huh. Wondered if it taste good since it doesn't look appetizing. lol
My kids saw a commercial (same big name company that makes the cans sauce/meat?) and wanted to eat a sloppy joe. Hmmm. I am not a big fan of can food except for tuna, vegetables and some fruit. I wondered if someone can make it by scratch and you actually can! Went to All Recipes and found a recipe that had good reviews and I thought for those rare readers who have never eaten one too, they may like to try it. It's a kid friendly meal and even my husband liked it. lol
Ingredients for 12 servings.

I halved the ingredients since this makes 12 servings)
3 pounds lean ground sirloin
1 tablespoon vegetable oil
3/4 cup finely chopped green or red bell pepper
2 tablespoons Worcestershire sauce
2 tablespoons dry mustard
1 teaspoon salt or to taste
1/2 teaspoon freshly ground black pepper
Heat a dutch oven over medium heat and brown the ground meat. Once the meat is cooked, remove the meat and set aside. Drain the fat and disregard it.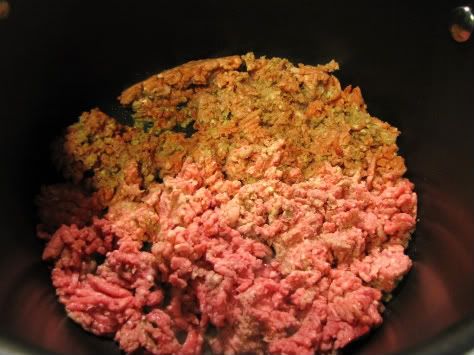 In the same dutch oven, heat the oil and saute the onions and bell peppers

(I omitted these since my daughter is on a pepper strike. Lord help me!!!)
Once the vegetables are tender, add the meat and the remaining ingredients. Mix it all up and let it simmer on low heat for around 25-30 minutes.
Get your favorite humburger roll and pile up some meat mixture on it. That's it! Easy and simple. So my son inhaled it in less than 5 minutes. I'm assuming he liked it. My hubby wanted to know where his second was so he must of enjoyed too. My daughter said it was a bit messy. lol I liked it. It's a bit sweet so next time I would use less ketchup or cut the brown sugar. I can see myself making these during the summer time for picnics or going to the lake. It's a keeper!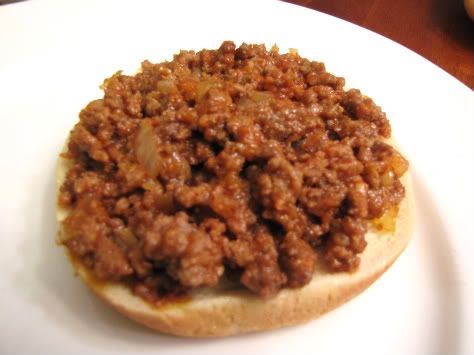 Bon Appetit!